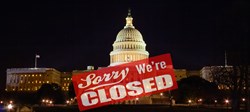 Since 1789, 12,013 individuals have served in Congress, so a 4.5% failure rate with our current 535 members is not so bad
Larkspur, CA (PRWEB) October 07, 2013
In this historic move prompted by the recent avoidable government shutdown, HireMojo is supporting the effort to replace the entire U.S. Congress in an unofficial capacity as part of its civic duty. Affecting nearly all 316M (1) Americans in one way or another, Congress' inability to resolve budget issues is sending over 800,000 federal workers home according to a CNN analysis(2) and has closed critical governmental services, like the National Institute of Health, which taxpayers have paid to be available(3). By contrast, all members of Congress continue to pay themselves(2).
"Not only did the government run out of money on Tuesday, the nation is set to hit its borrowing limit and potentially default on its debt in mid-October. Together, they serve -- in the words of CNN senior White House correspondent Jim Acosta -- as a dysfunction double whammy."(4)
"Since 1789, 12,013 individuals have served in Congress, so a 4.5% failure rate with our current 535 members is not so bad," highlighted John Younger, HireMojo's CEO. "A healthy democracy requires strong leadership, and we are delighted to help replace the current members with results oriented leaders for Congress that we need and deserve." Serious candidates will be guided toward their appropriate legislative district and cheered as they displace the incumbents.
"Keeping Americans employed, filling every available job quickly and lowering unemployment are key objectives for us all. While the current members of Congress have certainly done their best, they have fallen short and need to be replaced as soon as possible." emphasized Patrick O'Heffernan, previous co-host of Fairness Radio, left-right radio for the radical center. "While introducing some levity, this is an effective way to engage the public and give capable people some guidance to be considered."
The job description is below and corresponding initial interview questions can be seen at http://www.hiremojo.com/congress.
About HireMojo
HireMojo (http://www.hiremojo.com) provides software that makes hiring easy for thousands of businesses. Leveraging the power of a Software as a Service (SaaS) platform and incorporating most methods to find the best-fit candidates, HireMojo makes it possible to fill most jobs within a few weeks with the least amount of effort and cost. With a focus on helping companies under 1000 employees who represent over 75% of all the open jobs, HireMojo launched an initiative to drop unemployment in the United States by 10% by 12/31/14. Based in Larkspur, CA, HireMojo was launched in January 2013 to make the filling of nearly any job significantly easier, faster and at no or low cost. HireMojo hiring software
(1) "U.S. POPClock Projection" U.S. Census Bureau. (figure updated automatically)
http://www.census.gov/population/www/popclockus.html
(2) Government Shutdown: Get up to speed in 20 questions, CNN October 1, 2013
http://www.cnn.com/2013/09/30/politics/government-shutdown-up-to-speed/index.html
(3) What's Affected by a Government Shutdown?, USA.gov October 1, 2013
http://www.usa.gov/shutdown.shtml
(4) 10 ways a government shutdown will affect your daily life, CNN October 1, 2013
http://www.cnn.com/2013/09/23/politics/government-shutdown-daily-life/index.html
(5) How the ripple effects of the government shutdown might spread, day by day, U.S. News October 5, 2013
http://usnews.nbcnews.com/_news/2013/10/05/20805735-how-the-ripple-effects-of-the-government-shutdown-might-spread-day-by-day?lite
---------------------------------------------------------------------------------------------------------------------------------------
Title: Congressperson for United States Senate or House of Representatives – Lead by Example and Make Laws We Actually Want
Job #: NewCongress
To apply, refer or learn more go to: http://www.hiremojo.com/congress
You have a talent for listening to many perspectives and distilling the essence of the group's desires and concerns into a plan of action. Your rhetorical flair and quick wit make you popular in most circles and you often find yourself the life of the party. Now, step up to the opportunity of a lifetime as a United Stated Congressperson where your analytical prowess, negotiating skills, keen intellect and common sense will be embraced and celebrated.
The United States Federal Government offers competitive salary and benefits, including an innovative healthcare plan! In addition to completing this application, the selection process includes being elected in your specific state and district.
Representing ALL the people in your district, not just those who voted for you, we will rely on you to carefully review and decide on over 10,000 proposed new laws or changes to existing laws each year. If insomnia is an issue for you, there is a good chance that reading these bills may be the most effective remedy. That said, the 650 or so that actually do get passed will likely need your highly honed debating and negotiating talent.
While the U.S. population is 51% female, over 87% of the current members of Congress are white, male lawyers averaging 53 years of age, who have a median net worth of $913,000. We applaud their financial success and wish them all the best as YOU replace them with your more intimate understanding of the needs, concerns, desires and values of US citizens just like you.
Beautifully stated in a series of public letters written by Alexander Hamilton, James Madison, and John Jay in 1787, "It is an unfortunate incident that those who administer the government may forget their obligations to their constituents."
Apply today, we need you!!
Here are the questions asked in the online process:
1. The average price of a gallon of milk is:

$10.22
$6.25
$3.43
$2.11
I don't know, let me get a member of my staff to check
2. The primary reason for the government shutdown was:

To stop the "We the People" petition to withhold Congressional pay when the government is shut down
Like Windows, it simply works better when it's rebooted in safe mode once in a while
Balance the budget by stopping all spending for a while
To give the NSA time to complete their surveillance upgrades without the hassles of oversight
To devote even more of our waking hours to Miley Cyrus and twerking
3. The best way to create jobs and keep American's working is to:

Allow a government shutdown and stop 800,000 people from working
Promote and encourage innovation across many industries with tax and other incentives
Raise taxes, especially on smaller businesses
Create complex government structures to regulate and control how businesses must operate
Improve education and make getting a college degree more affordable
4. The bumper sticker I'm most likely to put on my car is:

"Has anyone seen my Constitutional rights?"
"Gun control means using both hands"
"One Nation… Under Surveillance"
"If guns kill people, then spoons make people fat"
"You can tell a lot about a man by the size of his CARBON FOOTPRINT"
"No Tea for Me!"
"Vegetarian – Native American Word for Lousy Hunter"
5. When a dinner guest does not agree with me, I typically:

Nod in agreement and move on
Consult with my escort service
Yell disparaging remarks and wave my arms wildly
Talk non-stop up to 21 hours to force submission
Negotiate a solution that works for both of us to the extent possible
Go to war
6. Regarding healthcare reform, I support:

Keeping things just like they are; having 40 million without coverage is the best way to thin the herd
Removing the structures between the health care professionals and the patient, like insurance bureaucracy, effectively reducing costs while simultaneously improving care
Proceeding with intermediate steps so the insurance companies can continue to thrive
7. I believe climate change is:

A massive conspiracy primarily driven by electric car companies and people who hate coal
Possible but not likely
Real, but not as big of a deal as promoted in the news
A significant issue and we need to take action now
Happening and I'm buying beach front property in Nevada
8. The number of illegal immigrants deported in 2012 was:

Around 100
100,000
400,000
Over 1 million
9. When balancing my personal budget, I typically:

Don't worry about it and print more money in the basement
File the "miscellaneous" expenses under the category "toilet seat" or "hammer"
Hire 20 aides to sort it out for me
Wait until the following year
Suggest going to war
10. The Tea Party is:

The Mad Hatter and friends
A great historical event in Boston
Likely to call Rush Limbaugh stout rather than fat
Still thinking John McCain made the right vice presidential choice
Secretly taping The Daily Show by Jon Stewart
A lovely gathering with crumpets
11. Congress voted to make English the official language of the United States. Coming in second was:

Urhobo
English (British)
'70s jive talk
Hehe
Spanish
English (Texan)
12. When I go to a frack party I like to:

Release gas
Use up to 600 chemicals
Hang with my friends
Drink beer
Get contaminated
13. Should my candidacy be deemed appropriate, I:

Authorize HireMojo to forward my resume/CV and responses to these questions to the media
Ask that HireMojo contact me to get authorization prior to forwarding my resume/CV and responses to these questions to the media
Do not want HireMojo to forward my resume/CV and responses to these questions to the media
14. I confirm that my answers to questions in this on-line interview are complete and accurate. Permission is granted to verify all statements in this application.

15. Why do you think that you can be a highly productive member of Congress?
16. What will be your campaign slogan?
17. What embarrassing thing will be found when your background is checked that you would like to share now?
(Please note that the selection process includes being elected in your specific state and district. Instructions will be provided to all applicants.)
To apply, refer or learn more go to: http://www.hiremojo.com/congress