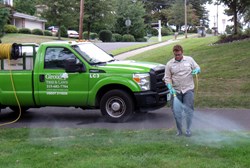 No two lawns are alike. Before choosing a lawn service homeowners need to know what's most important to them.
Philadelphia, PA (PRWEB) February 21, 2014
After being battered by snow all winter, Philadelphians are ready to think about lawn care and hiring a lawn service. Comparing price quotes can be confusing. Prices often vary widely in terms of services offered, product quality, number of visits and the dreaded hidden fees. Giroud Tree and Lawn provides tips on how to identify priorities, accurately compare quotes and select the best lawn service company.
"No two lawns are alike," notes Lou Giroud, President of Giroud Tree and Lawn. "Before choosing a lawn service, a homeowner should identify their priorities for lawn care."
1. Services: Does the homeowner want mowing, lawn treatments, insect or weed control, lawn fertilization, lawn repair, seeding, or aeration.
2. Product Quality: Evaluate the quality of the products used for lawn treatments. Premium slow-release fertilizers produce the best results but tend to be more expensive.
3. Environmental Impact: If concerned, investigate a 100% Organic programs. Other environmental considerations include:

Blanket vs. Targeted Treatments: Are pesticides and herbicides applied only when necessary? Blanket treatments save time and cost less but result in unnecessary use of chemicals.
Toxicity: Are the least toxic materials used to achieve effective results?
Fertilizer dosage: Is the dose customized and based on what lawn can fully absorb?
Phosphorous: A major source of algae problems in waterways, lawn fertilizers should not include Phosphorous unless a soil test indicates a shortage or the lawn is newly seeded.
4. Hidden Fees: What services are included in the price of the lawn treatment program? The best programs will include at no additional cost:

Free pH test to evaluate acidity levels.
6 visits with properly timed and customized treatments.
Potassium added to lawn treatments to increase drought, disease and stress resistance.
Pre and Post Emergent Crabgrass Controls
Nutsedge and Grub Control if needed.
In addition to the above tips, the Better Business Bureau provides detailed guidelines to help homeowners hire a lawn service company. Tips include:
1. Ask for a lawn inspection and a free estimate for service. Companies that quote a price without seeing the lawn can't be sure what a specific property might need.
2. Get a written agreement spelling out costs and services before you pay. What happens if service is needed between contracts? Will there be a charge?
3. Ask about guarantees and refund policies. Ask if the service is automatically renewed annually. Some contracts automatically renew services, unless the homeowner specifies otherwise. If signing a long-term contract, get information about cancellation rights in writing first.
4. Consider annual costs versus cost per application: Many companies allow payment after each treatment and may offer a discount if the annual cost is paid up front.
5. Look for professional membership in one or more lawn care associations.
The Better Business Bureau cautions check out businesses at http://www.bbb.org and the state's Department of Labor & Industries. Ask neighbors or friends for a recommendation. Make sure a company is properly licensed to apply lawn chemicals with the state's Department of Agriculture.
About Giroud Tree and Lawn
Giroud Tree and Lawn specializes in tree service, tree removal and lawn care programs that make customers love doing business with the company since 1974. Serving Bucks, Montgomery and Philadelphia Counties, the company offers professional tree and lawn evaluation, tree pruning, tree removal, insect and disease control, fertilizing, stump removal and traditional and 100% organic lawn programs to keep lawns healthy and green . Giroud Arborists are certified by the International Society of Arboriculture (ISA) and have the knowledge and experience required to properly diagnose, treat and maintain trees and lawn health. The company has been awarded the Angie's List Super Service Award® every year since 2005. The "Giroud Treework for Charity" program donates free tree care services to parks, historical sites and other non-profit organizations located in the Company's service area. For more information, visit the company website at http://www.giroudtree.com or call 215-682-7704.