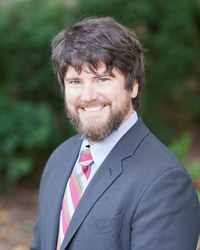 The thing that excites me most about working for SIMmersion is the deep, positive impact on people's lives our technology can provide
Columbia, MD (PRWEB) June 29, 2015
SIMmersion, the small business behind the patented PeopleSim® conversation engine, continues to grow by adding Chip Trimmier to their team as Capture and Proposal Manager. "The thing that excites me the most about working for SIMmersion is the deep, positive impact on people's lives the technology can provide," Trimmier says. "I'm inspired by the fact my work will protect the public, inspire healthy choices and stimulate personal growth."
Since 2002, SIMmersion has been using PeopleSim® technology to create virtual reality simulations of people in a wide range of difficult interpersonal situations, such as suicide interventions, criminal investigations, performance evaluations, sales calls and more. An experienced attorney, sales professional and entrepreneur, Trimmier brings diverse business knowledge to the team.
"SIMmersion is powered by creative thinkers with a range of experiences," says Dale Olsen, PhD, President and founder of SIMmersion. "We anticipate that Chip's expertise and energy will drive value for the business development team."
Trimmier enjoys writing and editing, skills he looks forward to using at SIMmersion. A lifelong sailor, he sometimes serves as crew in races on the Chesapeake. He also loves trail running and participates in events such as the 50K HAT Run at Maryland's Susquehanna State Park.
"I need exercise like food and water," Trimmier says. "SIMmersion's offices are located right next to a fantastic running trail, and one of the things that attracted me was being able to beat the traffic to sneak in a run and shower in the facilities here before work."
Together with his wife Kate, Trimmier founded the property management company Easy City Property LLC, and both are licensed agents with Henslee Conway Real Estate, Baltimore's boutique brokerage. Before taking on real estate full time, Trimmier advised credit union executives as an owner of the Birmingham, Alabama based law firm Trimmier, Kudulis & Reisinger, LLC.
"Running a multi-state law firm forced me to wear a lot of hats, and I might have learned more from my credit union clients than they learned from me," Trimmier says. "Credit union people are passionate because they know they're helping credit union members improve their lives. I get that same sense of mission focus here at SIMmersion."
"We help users build the skills and confidence they need to be successful," says Olsen. "Every time a SIMmersion-trained jobseeker finds work, or a SIMmersion-trained crisis counselor is better able to help someone calling the National Suicide Lifeline, it makes me very proud of the work this team does."
About SIMmersion
SIMmersion's mission is to train communication skills faster and more effectively by combining the world's most realistic simulated experiences with highly interactive training content and extensive user feedback. For more information, contact SIMmersion online or at 443-283-2555.