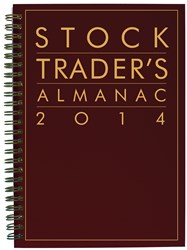 Hoboken, NJ (PRWEB) October 16, 2013
Now in its 47th annual edition, the STOCK TRADER'S ALMANAC 2014 (Wiley; October 2013; $50.00; 978-1-118-65945-8; Spiral-bound paperback and E-book) has been redesigned and is now bound with a lexotone cover with an attractive gold spiral and gold foil stamping that provides a more-user friendly format that lies flat when open, making it easier to write notes, lighter and more portable. This new design harkens back to the original format that Yale Hirsch pioneered over 40 years ago, proving that everything old is new again.
This latest edition also contains key seasonal and cyclical updates. Brand new for this edition, the Almanac has included one-year seasonal pattern charts for Dow, S&P 500, NASDAQ, Russell 1000, and Russell 2000. As 2014 is a midterm election year, each chart contains typical midterm election year performance compared to all years.
"Midterm election years are historically prone to bottoms, especially in October," says the Almanac's Editor-in-chief Jeffrey A. Hirsch. "2014 is also a 'fourth' year, which has the fourth best record in the decennial cycle for 132 years. Of the last four midterm election years since the start of the Great Depression (1934, 1954, 1974, 1994) that were also fourth years, only 1954 was impressive. If the 2013 bull rally powers ahead without much of a pause, 2014 becomes more vulnerable to another sizable downturn. But Almanac readers can take some solace in the fact that the Dow has gained nearly 50% on average from the midterm low the pre-election year high."
Among the research readers will find especially pertinent to 2014 are Market Charts of Midterm Years, Prosperity More Than Peace Determines the Outcome of Midterm Elections and that Midterm Election Time Is Unusually Bullish. Since 1934, the eight trading days surrounding midterm election days have produced an impressive 2.7% average gain. Hirsch adds, "Though the stock market in presidential elections very often is able to predict if the party in power will retain or lose the White House, the outcome of congressional races in midterm years is another matter entirely. Typically the President's party loses a number of House seats in these elections. If the market does not offer a clue to the outcome on House races, does anything besides the popularity and performance of the Administration? Yes! In the two years prior to the elections in 10 of the 24 midterm years since 1918, no war or major recession began. As a result, House seats were gained or the loss was minimal. A further observation is that the market gained ground in the last seven weeks of these 10 years, with an exception in 2002."
This must-have investment tool has a wealth of information organized in a calendar format. It alerts readers to little-known market patterns and tendencies that help investors forecast market trends with accuracy and confidence. The data and analyses in the Almanac are relied upon by savvy professionals, from well-known money managers to journalists. Allowing shrewd investors to maximize profit potential, STAis the ultimate desktop market data bank, showing the market's likely direction every hour, day, week, and month based on historical precedent. STA transforms investing into a business framework and makes investing easier by presenting new techniques and tools, providing pertinent statistics on past market performance, and supplying forms necessary for portfolio management.
For the Almanac's 2014 Outlook and the Mid-Term Election highlights, see here.
Created by Jeff Hirsch and the Hirsch Organization, tools and strategies contained in STA include:
The January Barometer: Predicts that stock market performance during the month of January sets the direction for the entire year. In fact, every down January for the S&P 500 since 1950 has been followed by a new or continuing bear market, a 10% correction or a flat year. S&P 500 gains in January's first five days preceded full-year gains 85.0% of the time, 8 of the last 16 midterm years followed first five days' direction.
The Best Six Months Switching Strategy AKA Sell In May: The stock market tends to make almost all of its gains during just six particular months of the year. In most years, the rest of the time traders would be better off putting their money in T-bills and going fishing. STA has upped the ante on this old favorite by combining the benefits of the Best Six Months with a technical timing indicator and the four-year cycle, nearly tripling the Best Six Months results with four trades every four years. The Almanac provides detailed instructions on how to implement trading strategies based on the Best Months Switching Strategies and some simple techniques for determining what to trade when implementing this strategy, including a sampling of tradable mutual funds and ETFs.
Four-Year Presidential Election/Stock Market Cycle: Our presidential elections every four years affect the economy and the stock market – just as the moon affects the tides. In the last 13 midterm election years, bear markets began or were in progress nine times. However, this had provided excellent buying opportunities. By the third, pre-election, year the administration's focus shifts to "priming the pump." Policies are enacted to improve the economic well-being of the country and its electorate.
In addition to access to the annual STA print edition, a subscription to the digital product ALMANAC INVESTOR provides twice weekly e-mail alerts that feature stock market forecasting, indicators, and seasonal patterns, alerting users to the best/worst trading days, market changes, stock and ETF recommendations and updates, financial commentary, overall market sentiment; monthly enewsletters that provide a guide to market patterns, cycles, fundamental developments, strategies and stock selection, and updates and expands the strategies outlined in the Stock Trader's Almanac; and access to handy research tools that enable subscribers to do their own research and update market indicators and strategies.
Other products from the Hirsch Organization include: STOCK MARKET CYCLES: HOW TO USE THEM FOR THE SHORT AND LONG TERM (Wiley; April 2013; DVD and Streaming Video; $60), SEASONAL SECTOR TRADES: 2014 Q1 STRATEGIES (Wiley; December 2013; e-only; $40), THE LITTLE BOOK OF STOCK MARKET CYCLES (Wiley; August 2012; Hardcover and E-book, $22.95 and SUPER BOOM: WHY THE DOW JONES WILL HIT 38,820 AND HOW YOU CAN PROFIT FROM IT (Wiley; April 2011; Hardcover and E- $24.95).
Stock Market Cycles presents Hirsch's short-term and long-term market forecasts and describes how he uses cycles to help time the market in a new video format. Available on DVD, via WileyTrading.com and Amazon.com, or a streaming video via WileyTrading.com, Hirsch reveals how to interpret stock market history to forecast future movements. In the video, given the confluence of cycles, Hirsch forecasts that the Dow Jones average likely will drop below 10,000 through late 2014. After a major rally and then another decline, he believes a secular bull market will emerge around 2018 which could drive the market up five-fold by 2025.
Also in a new, e-only format the upcoming Seasonal Sector Trades, contains trade recommendations and strategies for the first quarter (Q1) of 2014. This new quarterly publication is the culmination of years of painstaking research and will provide traders with the historic knowledge to spot big trades unfolding in today's markets. It identifies the best trades for each month based on historic tendencies and cycles. A special report is issued covering stocks, bonds, currencies, energy, metals, grains, soft commodities, and meats. An accompanying strategy calendar shows readers what to monitor during the beginning, middle, and end of each month. Backstopping the recommendations are articles on the major trades of the month and in-depth analysis on the historic price patterns of the underlying market.
The Stock Trader's Almanac Blog (http://blog.stocktradersalmanac.com) provides daily trading sentiment and keeps Almanac followers up to date on indicators, hot-topics, market happenings, speaking, news, and media coverage.