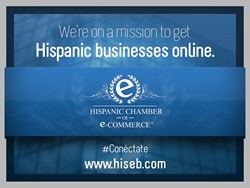 'We have a dream that one day every Latino-owned business shall have a website, an Internet marketing strategy and access to business resources that can help them to become more competitive,' - Tayde Aburto.
San Diego, California (PRWEB) September 06, 2013
With a push to get 100,000 Hispanic-owned businesses online, the founder of the Hispanic Chamber of E-Commerce, Tayde Aburto, has launched what he calls the "Get Hispanic Businesses Online" initiative. To that end, to say that the founder of the business-to-business membership-based association is focused on providing tools and solutions to Latino business owners is an understatement. With membership, he and his team promises to do all they can to not only increase the presence of Hispanic-owned businesses online, but to bring integral understanding to the need for the boost. "The Hispanic Chamber of E-commerce offers internet marketing services that help to promote businesses in a way that's out-of-the-box creatively and in tempo with today's marketplace. We want to foster the adoption of Internet business tools to help Hispanic-owned businesses to become more competitive," said Aburto. "We do it using a user-friendly platform with a private social network, E-Commerce and marketing tools."
Creating an extensive network of Hispanic business owners and professionals who are only to happy to support one another in their goals toward enjoying a greater presence in today's marketplace, Aburto and his team offers the tools necessary to foster communication and collaboration amongst members. With membership, the participants receive a business page with a blog and virtual store - an online marketplace complete with a professional directory, a business directory and special offers. Enterprisingly, Aburto is focused on increasing the number of Latino-owned businesses that have presence online and building relationships that engage a member's potential clients. "Simply put, our organization is all about securing relationships that increase sales, business' competitiveness and create a healthy bottom line for everyone involved," added Aburto.
Seeking to embody the benefits found in competitiveness, Aburto said of the Hispanic Chamber of E-Commerce, "We have adopted three of the sound objectives in which the World Economic Forum encourages business owners to engage. The three objectives are technological readiness, business sophistication and innovation." Believing that America's Hispanic population of business owners need to understand the benefit of networking and Internet marketing, Aburto wants to assure that his target market understands the importance of E-Commerce and technology, technology that basically works around the clock for business owners. "At this point, we're very satisfied with the powerful business platform that we have put together to provide the services that a small business needs to increase its presence online. Now, it's time to put it to work to help as many business owners as we can and to positively impact the communities where they live in," added Aburto.
For more information, visit http://www.hiseb.com. To connect on Facebook and Twitter, visit https://www.facebook.com/HispanicChamberofECommerce and https://twitter.com/HISCEC respectively.