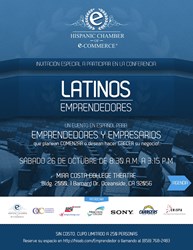 San Diego, California (PRWEB) October 14, 2013
Scheduled to take place on October 26th at the MiraCosta College in Oceanside, California a free event entitled the "Latinos Emprendedores Conference" will be held to support local area business owners in their quest to enjoy better exposure for their products and services. Hosted by the Hispanic Chamber of E-Commerce and the Oceanside Chamber of Commerce the event is expected to write a new chapter in the history of the Latino business community in and around San Diego County. The conference will highlight talks from Ramon Toledo, CEO of BuscaCorp and Gabriel Cabanas, a serial Entrepreneur, Sonia Farace, Business Planning Manager at Sony Electronics and Susana Villegas, Director of Hispanic Outreach & Media Relations at FocusCom as well as many more insightful guests.
"The Oceanside Chamber of Commerce is pleased and excited about partnering with the Hispanic Chamber of E-Commerce to present the Latinos Emprendedores Conference. This event will provide a wealth of information for the Latino business community." said David L. Nydegger, President and C.E.O., Oceanside Chamber of Commerce. The event will focus on providing practical tips about strategic planning, access to capital, crowdfunding, marketing, e-commerce, professional branding, Internet marketing, sales, mobile marketing and apps for businesses that can help them to become more competitive in their areas of expertise.
Making marketing avenues approachable Tayde Aburto, Founder of the Hispanic Chamber of E-Commerce (HCEC) said of the conference, "The Latinos Emprendedores Conference is the kick-off event of a series of seminars, workshops and webinars that we will promote to help our members and the Latino business community to become more competitive in today's ever changing marketplace. It's the proof that the Hispanic Chamber of E-Commerce is a results-driven organization that supports small businesses."
"The timing is perfect to bring together entrepreneurs and experts to learn from each other and help drive our local economy in San Diego. MiraCosta College is pleased to host this inaugural program," shared Dr. Francisco Rodriguez, president at MiraCosta College.
The company's founder went on to say, "We're thankful to MiraCosta College for hosting the event and we're honored to have such an experienced group of speakers sharing their knowledge on business topics. We know that the information is going to help the attendees to take their businesses to the next level."
To register for the Latinos Emprededores Conference visit http://www.hiseb.com/Emprendedor.
About
The Hispanic Chamber of E-Commerce is a business-to-business membership-based association focused on providing tools and solutions to members to increase their company's presence online. To learn more about the benefits of becoming a member of the HISCEC click here.
The Oceanside Chamber of Commerce is a business organization focused on providing leadership and a collective voice for its membership and community thereby promoting a strong business climate and quality of life.