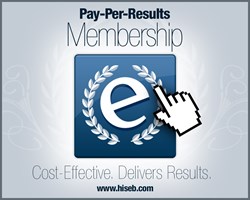 The Pay-Per-Results membership is a cost-effective and results-driven program focused on supporting small business owners to become more competitive. - Tayde Aburto
San Diego, CA (PRWEB) October 31, 2013
An always enterprising endeavor, the Hispanic Chamber of E-Commerce (HISCEC) with corporate office based in San Diego, California has found a way small business owners can enjoy the benefits of membership without the hardship of paying for it up front. HISCEC now introduces the Pay-Per-Results Membership Program and with its introduction invites small business owners to join the chamber without an initial membership fee. Confident that their exceptional services will secure ample new lead generation for small business owners the chamber will waylay the fee for a set time. Tayde Aburto, Founder of the Hispanic Chamber of E-Commerce said of the Pay-Per-Results Membership Program, "The Pay-Per-Results membership is our response to all the small business owners that don't believe in the benefits of joining a Chamber of Commerce. We want to invite them to join us, let us do our work, and pay us once they've sold $200 worth of services to new clients thanks to our marketing efforts and network of contacts."
Potential members need only to register at the Hispanic Chamber of E-Commerce site and alert its staff of their desire to join the Pay-Per-Results Membership Program to receive additional instructions. Offering Internet marketing services to Hispanic business owners who may or may not have a current presence online is both comprehensive and necessary. Able to point business owners in the direction of resourceful promotions, integral business relations, educational resources and needful collaboration with members nation-wide HISCEC helps members make the most of their business. To that end, the chamber also offers help with social media marketing, e-Commerce, social commerce, traditional marketing and Internet marketing tools. A veritable resource for all things business HISCEC is integral for any Hispanic business owner in today's fast paced marketplace.
Aburto adds, "Many Hispanic Chambers of Commerce and business associations are struggling to prove a healthy return on investment to their members. We don't want to be seen as an average business association. Our concept is unique and our business model works. We're confident that those who give us the opportunity to work with us will see results sooner rather than later. And if they don't, they don't have to pay."
For more information about the Hispanic Chamber of E-Commerce visit http://www.hiseb.com.
About
The Hispanic Chamber of E-Commerce is a business-to-business membership-based association focused on providing tools and solutions to members to increase their company's presence online. The Hispanic Chamber of E-Commerce offers Internet marketing services that help businesses to promote their products/services; to build business relationships and to collaborate with potential clients via an exclusive social network and it helps them to increase their sales using the e-commerce and marketing tools that are available for premium members.