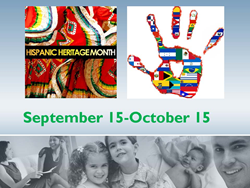 The Hispanic Heritage Month celebrations can be a great platform to kick off or solidify your Hispanic initiatives.
Miami, FL (PRWEB) September 11, 2014
With the objective of helping brands to deepen their connection with Hispanic-Americans, Spanish SEO provider Hispanic Market Advisors® shares some tips for brands and organizations (private and public) to join the Hispanic Heritage Month Celebration with activities that may build and deepen multicultural connections.
Sebastian Aroca, Managing Partner with Hispanic Market Advisors®, reminds brands that, "The Hispanic Heritage Month celebration, which takes place every year from September 15th to October 15th, is a splendid opportunity for smart and innovative brands to learn more about the Hispanic community and join the celebration without sounding cocky."
Here are a few ideas on how to celebrate diversity and honor the Latino culture:
1. Acknowledge your Hispanic employees for their contributions – It is important to recognize the contributions that come by employees from different cultures and backgrounds. The Army, for instance, is celebrating the many different cultures that make up American society.
2. Integrate diversity into your business – Embracing diversity does not mean dancing merengue with your colleagues in a networking event after business hours, although that can be fun. To integrate diversity into your business requires knowledge of customers' culture, buying habits and preferred methods of communication.
As a market's dominant population group changes, minority businesses belonging to that group naturally emerge to meet the unfulfilled needs of that group within the market. This will position your business to be ready to naturally exploit all economic opportunities within your diversified market segments.
3. Join Hispanic Organizations and Minority Business Programs - Becoming a corporate partner with the U.S. Hispanic Chamber of Commerce, sponsoring one local Latino event, or joining a Minority Business program such as DiversityFran (formerly known as the MinorityFran program) can be all magnificent ideas.
Many franchise companies, for instance, seek to merge diversity programs into their strategic plans as ways to create competitive advantage. Maid Right Franchising has created the "Maid Right Latino" initiative and is growing emerging markets in local communities by proactively recruiting into their franchise system Latino entrepreneurs who want to start their own business.
4. Establish strategic partnerships with Multicultural Agencies – Business owners, entrepreneurs and corporate executives across the United States are awakening to the importance of connecting effectively and emphatically with the Hispanic market. After all, Hispanic consumers growing purchasing power is estimated to reach $1.5 trillion dollars by 2015.
Everyone wants a piece of the pie! Some brands are making a serious commitment to the Hispanic market. Other brands, though, still remain cautious in their approach, for either lack of knowledge or information. Partnering with a Hispanic Marketing or Multicultural Agency can help support specific Hispanic initiatives targeting the Hispanic consumer.
5. Communicate to your stakeholders why and how your business embraces diversity – You may want to encourage your Diversity Program Manager or Public Relations Director to consider:

In conclusion, marketing to a diverse customer base requires knowledge of customers' culture, buying habits and preferred methods of communication. Because of increased competition, it is a natural conclusion that all markets eventually become saturated which makes it difficult for even established companies to grow. However, growth opportunities will always exist for those organizations who are prepared with multicultural connections. The Hispanic Heritage Month celebration can be a great platform to kick off or solidify those efforts.
About Hispanic Market Advisors®
Hispanic Market Advisors ® is a boutique company focused on developing online Hispanic market-ready solutions, including Hispanic marketing and English to Spanish translations, to aid companies of all sizes to reap the growth of the Latin American and US Hispanic market.