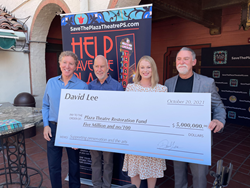 I strongly believe in the preservation of historic American theatres
PALM SPRINGS, Calif. (PRWEB) October 25, 2021
Former Palm Springs City Council member and current Planning Commission vice-chair J.R. Roberts held a news conference today to announce a significant development regarding the restoration project of the historic Plaza Theatre in Downtown Palm Springs. Noted television/theatre producer, director, and writer David Lee, a Palm Springs resident, has pledged $5 million to jumpstart an extensive renovation project of the celebrated theatre. $3 million will be donated immediately and an additional $2 million will follow as matching funds to encourage additional contributions. Lee presented a ceremonial check at the event, which took place at the entrance of the theatre. Roberts, current Palm Springs city council members Dennis Woods, Geoff Kors, and Mayor Christy Gilbert Holstege and Plaza Theatre Restoration Committee Board Members were present to accept the sizable donation.
"I strongly believe in the preservation of historic American theatres," said Lee. "I've been impressed with the planning that has already gone into the admirable restoration project for the Plaza Theatre and saw an opportunity for me to assist in this impressive campaign. I hope that my donation will spark interest in others who feel as strongly as I do about preserving our city's past and creating a quality entertainment space for future generations."
The Plaza Theatre is one of the city's most iconic structures. Built in 1936, the building has been the location for film premieres, national radio broadcasts, the Palm Springs International Film Festival, and the Fabulous Palm Springs Follies. Despite its use, over the last few decades, the building fell into disrepair. In 2019 the City of Palm Springs, led by Roberts, launched a campaign to restore the grand dame Plaza Theatre to its former glory. The interior of the building was cleaned up, but the Class One Historic structure still requires significant work to shore up its decayed infrastructure. Lee's donation will provide a significant portion of the funds needed for the complete restoration. Additional donations will be sought to fully fund the restoration process, which may require $10 - $12 million to complete.
The City has engaged the international architectural firm Gensler and historic preservation consultants Chattel to develop a comprehensive restoration and rehabilitation plan for the structure. Their plan called for installing 670 new seats, significant infrastructure repairs, installation of new theatrical equipment, and structural improvements to ensure the building meets current fire prevention and Americans with Disabilities Act mandates. A detailed plan and timeline will now be conducted using the funds from Lee's donation.
"I am humbled and deeply touched by David's incredible act of kindness and civic responsibility," said J.R. Roberts. "A long-time philanthropist who has supported many other charities in our valley, his significant donation to this important project will allow us to immediately start on the necessary renovation process and will help us begin to achieve our goal of returning this beautiful building back to its former glory. We could not have done this without his generous help. A fully restored and operating Plaza Theatre will be a huge boost for Palm Springs economically and culturally and that is our focus. This gift shows that support for preservation and the arts is BACK!"
The Plaza Theatre restoration and fundraising campaign was in its early stages when COVID-19 pandemic forced a cessation of activities. The last event in the building was a sold-out concert featuring Nancy Sinatra in February 2020 during Modernism Week.
About David Lee
Television/theatre producer, director, and writer David Lee is best-known works for his popular television projects "Cheers" and "Frasier." He co-wrote and co-produced "The Jeffersons" and "Cheers" with Peter Casey for, respectively, six and four years. He and Casey co-created "Wings" and "Frasier" alongside the late David Angell as Grub Street Productions. Lee has directed revival productions of many Broadway musicals, including "South Pacific" starring Brian Stokes Mitchell and Reba McEntire at the Hollywood Bowl. He co-authored (with Joel Fields) a new book for the musical "Can-Can," and his re-imagined version of "Camelot" is currently being performed in many productions around the globe. Lee has been nominated eighteen times for Primetime Emmy Awards and won nine of those nominations. He also won the Directors Guild Award, the Golden Globe Award, Producers Guild Award, GLAAD Media Award, British Comedy Award, three Television Critics Association Awards, two Humanitas Prizes, and the Peabody Award. He resides in Palm Springs.
About the Plaza Theatre:
Seminal Palm Springs architect Harry Williams designed the impressive Plaza Theatre in the Spanish Colonial Revival style. The theatre opened in 1936 with the premiere of the George Cukor film, "Camille," with its legendary star, Greta Garbo, who allegedly slipped into the back of the theatre after the lights went down. Garbo's co-star in the film, Robert Taylor, attended with Barbara Stanwyck.
Over the years, the theatre was the venue for memorable performances by entertainment giants Bing Crosby and Frank Sinatra. Performers Jack Benny, Bob Hope, and The Edgar Bergen and Charlie McCarthy Show broadcast live radio shows from the Plaza, bringing national attention to Palm Springs. It also was one of the most popular movie theatres in the growing Palm Springs community and hosted a number of motion picture world premieres, including "My Fair Lady" and "The Music Man."
In the late 1980s Sonny Bono created the Palm Springs International Film Festival at the Plaza Theatre. In 1991, a vaudeville-type revue called "The Fabulous Palm Springs Follies" launched and ran there for 23 years. The long-running show brought renewed international exposure to the theatre and in many ways helped revitalize downtown Palm Springs.
Establishment of Historic Protection
The Plaza Theatre was declared a Class 1 Historic Site in 1991. This designation prohibits any structural changes that do not adhere to the original design. The theatre is in dire need of repair and restoration and the City of Palm Springs is committed to bringing it back to its original luster as the heart of the City.