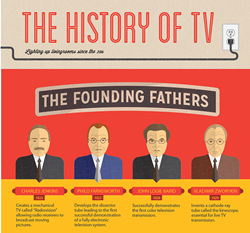 You can expect to see more fun graphics like this about gaming consoles, programming, and much more
Fort Lauderdale, Florida (PRWEB) April 21, 2014
A History of TV infographic has been released by DISHTVSignup.com in an effort to provide the online community a reliable source about the origins of not only television viewing but its hardware. Readers will be able to appreciate where TV is today as this graphic hopes to shine some light on its roots. There are a few other resources published about the history of television but this version just seems a little more fun. This colorful yet informative post explores the early days of the technology without an overload of information. The transitions of each stage of its evolution are recapped through each decade's influence on the device. Everything from the initial footprints in radio all the way through to the smart TV's of the future is highlighted.
The graphic is showcased on DISHTVSignup.com, an authorized reseller of DISH satellite TV services. Here viewers can trace the TV timeline starting back in the 1920's and how it made its way up through to today's standards. Creators, technology, pricing, and famous face contributions are all touched upon to show the grand effect that the television has had on the world as whole. Readers can track the progress of one of the few items that has been able to stand the test of time to profoundly continue to revolutionize pop culture for decades on end.
The bit will be available on the site indefinitely. This marks the first of many more graphics to come that offer insight and relevant information for all interested audiences regarding the TV entertainment industry and how it has taken society by storm since day one. "You can expect to see more fun graphics like this about gaming consoles, programming, and much more," stated Claudia Salinas, SEO Manager at Qology Direct LLC who owns the site. "Hopefully, these visual interpretations of this part of history can be both entertaining and useful to anyone working on a project related to this subject."
DISHTVSignup.com is a leading destination for information about DISH products, industry news, programming features, and advances in technology. Questions about satellite services can be answered and general information regarding satellite features can be received as well.