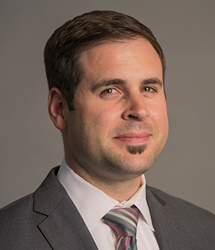 Joe is an extremely knowledgeable, hard-working and passionate builder who has been instrumental in the great success of HITT's Denver office...
GOLDEN, COLORADO (PRWEB) June 27, 2014
HITT Contracting Inc. is proud to announce that Joe Zanone, a project manager in the HITT Denver Office, was recently named one of CoreNet Global's top "Young Leaders to Watch." From real estate investment and law to architecture and construction, this award recognizes emerging leaders from all sectors of the commercial real estate (CRE) industry. Winners are nominated by their local CoreNet chapter for a place in CoreNet Global's national 36 under 36 awards program. An esteemed panel of corporate real estate executives evaluated each nominee on their involvement in CoreNet Global, work in CRE, philanthropic activities and overall promise in the industry. From around the world and across 40 chapters, Joe was selected as part of CoreNet Global's first class of 36 under 36 young leaders.
Joe began his career at HITT as an assistant project manager in HITT's headquarters office in the DC metro-area. Now with the company for more than nine years, Joe has been a part of HITT's Denver office since it's opening in 2011. As project manager, Joe has helped grow the Denver office to 20 employees and roughly $30 million in sales for this calendar year.
Senior Vice President and HITT Denver office head Kevin Ott said, "Joe is an extremely knowledgeable, hard-working and passionate builder who has been instrumental in the great success of HITT's Denver office enabling us to complete more than 170 projects and almost 1,000,000 s.f. of office interior construction over the past two years!"
Joe Zanone truly exemplifies the HITT Way and is the type of young leader that sees himself as a teammate first and a leader second. His abilities to communicate clearly, exemplify a level-headed demeanor and a willingness to guide through example have been paramount to his continued success at HITT. When he is not working, Joe is an active member of the local CoreNet chapter and is Co-Chair of the Colorado Young Leaders Group.
About HITT Contracting Inc.: Founded in 1937, HITT Contracting has grown to be ranked among today's 100 Largest General Contractors nationwide, with offices in Washington, DC, Atlanta, Baltimore, Charleston, Denver and South Florida. Our client-focused teams fulfill any program need from a doorknob change to base building shells and complete tenant/owner fit-outs. Company-wide, HITT maintains more than 700 employees, including a skilled in-house field force available 24/7 to support clients long after initial occupancy. The HITT Way for quality and excellence defines the core of our mission and how we are structured. Teams are organized into expert market sectors, specializing in corporate base building and interiors, government, healthcare, hospitality, institutional, law firms, paint and service and technology. Complementing these market sector teams are the preconstruction, virtual construction, sustainable construction and subcontractor relations divisions. HITT's 2014 experience modification rate (EMR) of 0.55 is amongst the lowest in the industry. For more information, please visit http://www.hitt-gc.com. Follow us @twHITTr.
###