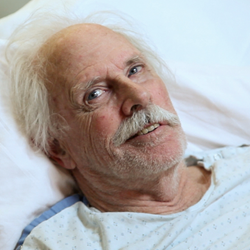 There's something about honoring tradition, and this movie had a little tradition to it. And I like that, I admire that. -Bruce Dern
Los Angeles, CA (PRWEB) March 21, 2014
Legendary actor Bruce Dern brings his magic to the award-winning independent film HITTING THE CYCLE, on sale at Walmart stores nationwide on March 25th. Dern, who garnered an Academy Award nomination this year for his masterful performance in Alexander Payne's road trip movie NEBRASKA, plays the estranged father of one-time Major League Baseball star Jimmy "Rip" Ripley. This heart-warming film explores the meaning of home and family, and how it can clash with ambition and pride. Rip (played by writer-director J. Richey Nash) wrestles with this conflict as well as his inner demons when his career reaches a crossroads at the same time he learns of his father's terminal illness. The Washington Post describes HITTING THE CYCLE as an "insider's look at the backstage of The Show and a timely exploration of how a four-hit wonder deals with an unfulfilled dream."
HITTING THE CYCLE has won numerous awards on the film festival circuit, including Best Dramatic Feature at the Manhattan Film Festival in New York City, and Best Feature Film & Audience Award at the All Sports Los Angeles Film Festival. Last September, the National Baseball Hall of Fame in Cooperstown, NY honored HITTING THE CYCLE by screening the movie in their 8th annual Baseball Film Festival.
In the film, Rip reluctantly revisits his long-forgotten hometown to face his estranged, dying father after being released by his minor league baseball club due to lingering injuries and a sinking batting average. While attempting to reconcile his fractured past with an uncertain future, he begins to gain insight into the choices, opportunities and sacrifices that people confront when they outlive the life of their dreams. Through a journey of self-discovery, redemption, and forgiveness, Rip learns that life isn't always played between the chalk lines of the baseball diamond.
Along with Dern and Nash, HITTING THE CYCLE stars Courtney Henggeler (THE BIG BANG THEORY, FRIENDS WITH BENEFITS), Travis Schuldt (IT'S ALWAYS SUNNY IN PHILADELPHIA, AN AMERICAN CAROL) and Peter Van Norden (THE ACCUSED, THE BEST OF TIMES). The film is also available on DVD, iTunes, Amazon, CinemaNow, Google Play, Xbox and many other online retailers.