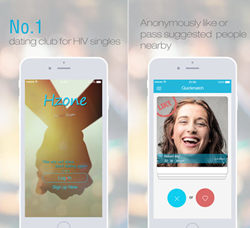 Los Angeles California (PRWEB) May 05, 2015
Hzone is the NO.1 online dating app only for HIV/AIDS singles to date and connect with each other. Developed on the lines of popular online dating application Tinder, Hzone filters out people living with herpes, HPV, chlamydia, syphilis or other STDs. This dating app is purely meant for people living with HIV/AIDS. On this point, Hzone is completely different from STD dating apps.
Hzone is created specially to meet the requirements of HIV Singles or AIDS singles. STD dating apps like PositiveSingles do help much on connecting people with STDs together. But for HIV/AIDS singles, they have to wander around among millions of people living with herpes or other STDs to find what they want. Sometimes, they are innocently involved in topics they are not interested in at all. There is also a massive barrier of communication for HIV-positive people to talk about their disease with people knowing little about it. Well, they do not need to worry about the communication barrier any more by using Hzone. Hzone can help them break the social stigma and easily get to know other HIV/AIDS singles. Users can anonymously like or pass suggested people.
Over 1.1 million people are living with HIV in the United States according to the data published by CDC in 2013. An estimated 39 million people with AIDS have died worldwide since the epidemic began. Currently, there is no cure for this disease. People with HIV/AIDS have to get constant treatments in order to survive. They suffer from depression caused by shame, trauma and substance abuse.
"It is hard for people with herpes to understand pains and depression people with HIV/AIDS suffer from." said Justin M, CEO of Hzone, "We create Hzone in order to provide HIV/AIDs singles a warm community where they can feel a sense of belonging. They can encourage each other by sharing stories in their own community without any concern of being discriminated or hurt."
Download Hzone in Apple Store:
https://itunes.apple.com/us/app/hzone-1-hiv-positive-dating/id967697521?ls=1&mt=8