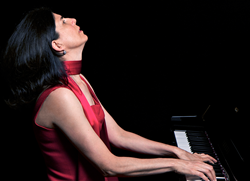 Passions have a way of radiating outwards, creating effectiveness, success, and most importantly happiness in a person's life.
New York, NY (PRWEB) June 11, 2014
When Nancy M. Williams reclaimed her passion for the piano after a 25-year hiatus, she came to terms with her hearing loss—and pursuing her passion radiated out to other aspects of her life. Ms. Williams will share her story in "Finding Your Calling... Despite a Hearing Loss," her workshop at the Hearing Loss Association of America's (HLAA) Convention in Austin, Texas, on June 28th.
"Every person has a passion, an activity that they love," says Ms. Williams. "I started piano lessons at age 11, and I couldn't get enough time on the piano." At 15, she performed a Rachmaninoff Prelude in recital. Then family and financial pressures forced her to quit the summer of her 16th birthday.
She was told that with her hearing loss, she would never be a concert pianist.
From that point, through Harvard Business School and into her marketing career, she tried to hide her hearing loss, wearing her hair long to cover hearing aids in both ears. "I was in denial even to myself," she says. Her career in telecom marketing, although flourishing, left her unfulfilled.
Then she enrolled in adult piano lessons shortly after her 40th birthday, triggering transformation. She left behind her marketing career. Today, Ms. Williams is an award-winning writer, a motivational speaker, the Founding Editor of the online magazine Grand Piano Passion™, and a Board Member of the Hearing Health Foundation, all of which center around the two things she was afraid to embrace, her hearing loss and love for the piano.
Now she performs in amateur piano concerts open to the general public. In 2012, she debuted in a masterclass recital at Carnegie Hall's Weill Hall.
Most importantly, her passion for the piano has helped her to accept her hearing loss as part of herself, allowing it to become empowering.
Ms. Williams defines a passion as an activity people do naturally and with great interest, and one that often has its roots in childhood. Adults often neglect their passions, sometimes for practical reasons of time, money, or health, other times out of fear. "But passions have a way of radiating outwards, creating effectiveness, success, and most importantly happiness in a person's life," says Ms. Williams.
"Nancy's compelling story, engaging presentation and interaction with her audience will keep participants sitting on the edge of their seats—and enjoying beautiful music," says HLAA Executive Director Anna Gilmore Hall.
Ms. Williams presented her workshop on "Claiming Your Passion" at the Canadian Hard of Hearing Association (CHHA) National Conference in Toronto this past April. "Amazing. Not only the music but the way Nancy made it so interactive," says CHHA President Myrtle Barrett. During the exercises to help participants tap into their passions, "I sat next to a man who kept wiping the tears away."
To share your story of claiming your passion, tweet us at @GrandPianoP and use the hashtag #MyGrandPassion.
Follow Nancy M. Williams on Twitter:
https://twitter.com/nmwilliamshear
Like Nancy M. Williams on Facebook:
https://www.facebook.com/NancyMWilliamsOnHearing