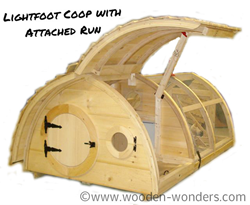 New line of boutique coops built to the standards of a Hobbit. Hand made in Maine, USA.
Unity, ME (PRWEB) January 30, 2014
Inspired by narrations of Hobbiton, The Shire and Middle-earth found in the literary works of JRR Tolkien's The Hobbit and The Lord of the Rings series, Wooden Wonders, http://www.wooden-wonders.com, designs and builds boutique structures to the standards of a Hobbit. Wooden Wonders now announces a new line of Hobbit Hole Chicken Coops. The coops received rave reviews when introduced to a crowd of discerning backyard poultry enthusiasts at the 2014 Northeastern Poultry Congress in Springfield, MA.
"I am impressed by the excellent workmanship of these coops, and the engineering as well. They are a well thought out design, especially those with a hinged roof! Easy access for cleaning and egg gathering, et cetera," says chicken expert Peter Brown, also known as "The Chicken Doctor".
Wooden Wonders is a Maine based firm started by husband and wife Rocy and Melissa Pillsbury that has been in the business of building Hobbit Holes for four years. The unique round windows and doors and curved rafters set their design apart from any other chicken coop, playhouse or shed on the market. Each Hobbit Hole is designed by Mr. Pillsbury, and then skillfully handcrafted in their small manufacturing facility in Maine. The Pillsbury's say it's a labor of love.
"We are really excited about our new coop designs, and we couldn't be more pleased that we received such a positive response to them in Springfield," said Melissa Pillsbury. "It was nice to have the chance to show our designs to an audience that would really appreciate the high quality and clever engineering of our Hobbit houses."
Backyard chicken keeping is a hobby of increasing popularity in the US, and spring is the most common time to get a flock started. Wooden Wonders is now taking orders for limited production runs of their coops. For more information please visit http://www.wooden-wonders.com or call 1-855-462-2484. Wooden Wonders also maintains an active and popular Facebook page. With a few modifications, they will also be marketing the new coop designs as houses for a full range of pets, from rabbits to large dogs.
About Wooden Wonders
Wooden Wonders designs and builds boutique Hobbit Hole playhouses, chicken coops, and pet homes as well as larger custom Hobbit style houses for a wide variety of possible uses including garden sheds, cottages, saunas and studios.
Wooden Wonders is a Maine family business committed to beautiful design, premium quality, and expert craftsmanship.
© 2014 Wooden Wonders. Hobbit Hole, Shire, Middle-earth, The Hobbit and the characters, items, events, and places therein are trademarks or registered trademarks of The Saul Zaentz Company d/b/a Middle-earth Enterprises and are used under license by Wooden Wonders. All rights reserved.
Media contact:
Melissa Pillsbury
Wooden Wonders
855-462-2484
http://www.wooden-wonders.com