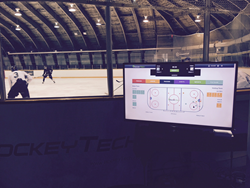 The statistics we can produce today with the system are well beyond what is currently available to the hockey world.
Guelph, Ontario (PRWEB) April 23, 2015
HockeyTech, the worldwide leader in hockey-related technologies, analytics and information services, announced today the launch of HockeyTech Analytics, a revolutionary technology that introduces advanced analytics to the game of hockey like never before. The groundbreaking in-arena system allows for location tracking data of all players, on-ice officials, and the puck in real time.
"As a serial technology entrepreneur, I was amazed when I became CEO of the Florida Panthers in 2009 that we were making multi-million dollar hockey operations decisions almost exclusively with subjective information from our scouts and video coaches", said HockeyTech CEO Stu Siegel. "When I sold my interest in the team, I decided to focus finding ways to help arm teams with more objective data and tools to take analytics to a new level."
Since its founding two and a half years ago, HockeyTech has completed five hockey technology company acquisitions. The combination of these entities creates a whole new paradigm in how hockey analytics could be delivered.
"My dream was to be able to track every event that takes place on the ice and convert that to digitized actionable data", adds Siegel. "I discovered a small company in Finland that had developed incredible technology that would enable us to create an indoor GPS-like system that was accurate and fast enough to keep up with hockey players and pucks."
To create the new HockeyTech Analytics system, the company partnered with Finnish based Quuppa to leverage their location based technology as an integral part of the development process. HockeyTech also teamed up with the University of Waterloo, world-renowned for technology innovation, on the company's first installation of the system at its arena. Working closely with the university's men's and women's varsity hockey teams, the system is continuously tested and improved. Players wear a coin sized, virtually weightless RFID tag, and a tiny chip is embedded in the puck. A series of locator devices that are installed in the arena rafters calculate in real time the precise 3D position (X/Y/Z coordinate) of each chip up to 50 times per second. These coordinates run through proprietary advanced algorithms to produce real-time statistics on each player and the puck, such as time-on-ice, skating speed, distance skated, shot/pass speed and location, zone play, puck possession, and much more. Further development is planned for the areas of player safety, media, fan engagement, and a series of visualization tools.
"The statistics we can produce today with the system are well beyond what is currently available to the hockey world", said HockeyTech CTO Cary Moretti. "However, what truly excites us even more is the idea of arming team statisticians with this data to analyze positioning during such game events as goals for and goals against. We believe that HockeyTech Analytics will lead to significant changes in how the game is coached and how teams evaluate player performance."
About HockeyTech
HockeyTech is the worldwide leader in providing hockey-related technologies, analytics and information services. HockeyTech was founded in 2013 by Stu Siegel, serial technology entrepreneur and former Florida Panthers Managing Partner/CEO, to address the lack of technology tools available to the hockey world. The company has grown rapidly, and has made five company acquisitions to date. While HockeyTech is a new corporate identity, it has been providing cutting-edge solutions to the hockey world since 1998.
HockeyTech Website: HockeyTech.com
FOLLOW HockeyTech on Twitter: @HockeyTech
LIKE HockeyTech on Facebook: Facebook.com/HockeyTech