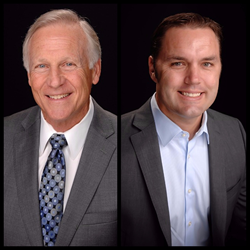 An IPS should be your guiding document for keeping you and your investment advisor on the same page and mutually accountable.
Ventura, CA (PRWEB) September 28, 2017
Originally presented in a list of ten tips, Ross Hoffman, president and CEO of Hoffman & Associates, shares the first five most important things to focus on as one makes meaningful financial choices in their life.
No. 1: Make sure wills, living trusts, durable powers of attorney and durable powers for health care are in place and recently reviewed. "A husband and wife once came to see me to sign some investment documents and the wife had lost much of her vision and could not see where she was to sign," recalled Hoffman. "However, their durable powers of attorney had expired, and they would need to visit their attorney to have it updated. In short, the husband could not do anything on behalf of his wife without a current document. A little regular maintenance to your legal documents can make a big difference in your life."
No. 2: Develop a written master plan for business and personal wealth. To maximize value during one's lifetime, prepare for the desired legacy and minimize income and estate taxes. "Particularly when complex inheritance issues exist, it's well worth taking the time when everyone is healthy and happy to prepare for the future with a comprehensive, integrated written plan," stressed Hoffman.
No. 3: Investment Policy Statement (IPS). "An IPS should be your guiding document for keeping you and your investment advisor on the same page and mutually accountable," noted Hoffman. "The best investment decisions are made in coordination with a fiduciary advisor connected to you through a comprehensive written plan to guide your strategy."
No. 4: Don't try to play the market by picking individual stocks. Instead, use the science of evidence-based investing to participate in the market. Truly smart decisions come from becoming an informed investor and heeding the evidence on how to build personal wealth tax efficiently in volatile markets. "Build and stick with an efficient, low-cost portfolio customized for your personal willingness, ability and need to balance market risks and rewards," advised Hoffman.
No. 5: Review all insurance coverage to make sure it is providing the benefits and protection intended. "The main point of insurance is for it to be there to depend on when you need it the most," concluded Hoffman. "Effectively implemented, insurance can also be a powerful estate-planning tool for addressing liabilities such as survivorship coverage, debt pay-off, disability income, long-term care, buy/sell agreement funding, key man protection, salary continuation, errors and omissions, business succession and automobile, homeowner and estate taxes. A big-picture review from an objective wealth manager can bring your insurance needs into tighter focus."
To read the preceding and remaining five tips in their entirety, please visit http://hoffmanwm.com/70998-2/.
About Hoffman & Associates
Hoffman & Associates is comprised of a team of wealth managers. Hoffman & Associates services include financial and estate advising, retirement planning, business exit planning, investing and insurance. For more information, please call (805) 648-5300, or visit http://www.hoffmanwm.com. The office is located at 121 N. Fir Street, Suite D, Ventura, CA 93001. Securities offered through Fortune Financial Services, Inc. Member FINRA/SIPC. Hoffman Wealth Management and Fortune Financial Services, Inc. are separate entities.
About the NALA™
The NALA offers small and medium-sized businesses effective ways to reach customers through new media. As a single-agency source, the NALA helps businesses flourish in their local community. The NALA's mission is to promote a business' relevant and newsworthy events and achievements, both online and through traditional media. The information and content in this article are not in conjunction with the views of the NALA. For media inquiries, please call 805.650.6121, ext. 361.