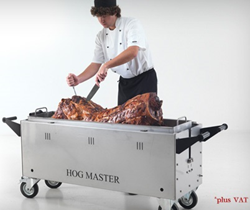 2014 was a Record Year for Hog Roast Machine Sales
(PRWEB) January 22, 2015
After several difficult trading years, sales of hog roast machines took off during 2014.
Record numbers of hog roasting machines were sold mostly to independent catering firms, entering the industry for the first time in 2014. With a starting price point of just £1,495 per machine, hog roast machines are an affordable option for start up firms. In comparison, a food truck costs from £25,000 to buy and in addition, they have to be insured, fuelled and maintained, making this type of catering equipment beyond the reach of most start up caterers.
Stephen Marsden from Hog Roast Machines, one of the UK's biggest distributors of catering machines, said:
"I worked in the mobile catering industry for several years during which time a lot of people asked me about setting up their own businesses. Five years ago, I finally tapped into this interest and started making and selling hog roasts machines. For the first few years, we sold less than 30 machines, but last year was an amazing year. Our sales grew by 200% and we expect to sell even more in 2015."
Since the recession, demand for street food has soared. People can no longer afford to eat out in restaurants all of the time, but still want to enjoy eating out. In many of the UK's towns and cities, consumers have started to buy more meals from street vendors.
Hog roasting machines developed by Mr Marsden of Hog Roast Machines were designed to be set up and used virtually anywhere. Many vendors sell freshly roasted hog sandwiches or wraps at markets, festivals, fetes and on the street. With additional kits these hog roast machines can also be adapted to barbecue meat, instead of spit roasting, providing another sales opportunity for those that own and run these machines.
As the artisan food market has a growing demand in the UK, Hog Roast Machines hope to continue their growing sales into 2015and beyond.
For more information on Hog Roast Machines please visit http://hogroastmachines.co.uk.
Media Contact Details-
Contact Name: Stephen Marsden
Company Name: Hog Roast Machines
Company URL: http://hogroastmachines.co.uk/
Contact Tel: 01895 875707
Contact Email: sales@hogroastmachines.co.uk
Address: 8 Wilmar Close
Uxbridge
Middlesex
UB8 1AS