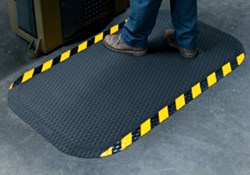 Hog Heaven Mats provide a very effective anti-fatigue surface for those who must stand in the same position for long periods
Cleveland, Ohio (PRWEB) February 21, 2014
The new Hog Heaven Anti-fatigue Mats are designed for mostly dry industrial environments, although they also work well in areas where chemicals are present. The thick rubber mats are constructed of a closed-cell Nitrile rubber/PVC blend sponge molded to nitrile rubber surface that provides long-lasting comfort underfoot. A textured diamond surface offers increased slip-resistance, and the rubber border remains flexible for the life of the product and will not crack or curl.
"Hog Heaven Mats provide a very effective anti-fatigue surface for those who must stand in the same position for long periods," according to Dan Ruminski of Martinson-Nicholls.
Hog Heaven Mats feature beveled borders in black or safety striped in four OSHA-approved colors (yellow, orange, green or red). These new industrial anti-fatigue mats come in 5/8 inch or 7/8-inch thicknesses. The National Floor Safety Institute certifies the static dissipative and welding safe mats slip-resistant. The nitrile rubber top surface uses 20 percent recycled content, and the mats are chemical resistant as well as grease and oil proof.
Hog Heaven Mats are made in the USA, and come in five standard sizes. The anti-fatigue mats are recommended for distribution, manufacturing and retail facilities for picking lines, assembly lines, work stations, check-out stations and similar.
About Martinson-Nicholls
Martinson-Nicholls, has established itself as a leader in custom anti-slip tape, floor mats, and eco-friendly products for more than 25 years.
Martinson-Nicholls provides the customer with the exact size matting needed--small, large, standard, nonstandard, special shapes and logos. Custom installations are also a specialty of the company.
Anti-slip safety tapes and treads are available in various sizes and textures from hand cut or die cut pieces to full rolls and special shapes. For more information, please visit http://www.floormat.com.