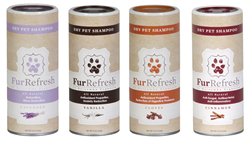 York, South Carolina (PRWEB) April 15, 2014
Holcombe Organics' FurRefresh had its beginnings in an animal rescue environment where dirty, frightened animals couldn't be bathed in water or by spraying their coats. The inventor of FurRefresh has been in animal rescue for 25 years and has fostered hundreds of animals. Most of these dogs and cats arrive from abusive or neglectful situations and need encouragement and comfort. They do not need the frightening experience of being bathed, but they are almost always dirty and smelly. Formulating a solution was the beginning of FurRefresh. This dry shampoo is non-threatening, does an exceptional job of cleaning, conditioning, and deodorizing coats. There is even a whitening ingredient to help brighten white fur. The animals do not mind a sprinkle-on powder, a quick massage and a brush-out if needed. FurRefresh packaging is Eco-friendly and FurRefresh is a "green" product.
FurRefresh is "lickable" by pets and some of the culinary spices used can even provide health benefits if ingested. It contains soothing ingredients which relieve itchy skin and help repel insects. The culinary spices provide wonderful scents, and two scents (lavender and vanilla) offer built-in aromatherapy. FurRefresh even contains a culinary whitening ingredient to brighten white coats.
Scent choices and their properties/benefits:
Cinnamon: Anti-fungal, Antibacterial, Anti-inflammatory
Clove Antioxidant, Reduction of Digestive Problems
Lavender: Relaxation, Stress Reduction - Aromatherapy
Vanilla: Antioxidant, Anxiety Reduction - Aromatherapy
PURCHASING FURREFRESH HELPS HOMELESS ANIMALS. A significant portion of each purchase of FurRefresh goes to the care and housing of homeless cats and dogs.
For more information, visit http://www.holcombeorganics.com or email marthasinyard(at)yahoo(dot)com.