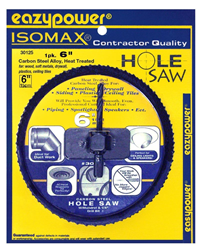 Dallas, TX (PRWEB) July 27, 2015
TheHardwareCity.com is pleased to announce the availability of the technologically-advanced EAZYPOWER products. EAZYPOWER tools are manufactured by EAZYPOWER, and the products are now sold by The Hardware City. These 6-inch Hole saws are perfect for making holes in cornhole boards. It works with 3/8-inch or 1/2-inch drills.
This Hole Saw for CornHole Boards is also great for duct work, AC/ heat registers, ceiling lights and speakers. The tool is made up of Heat Treated Carbon Steel Alloy, which provides smooth, even, professional cutting for wood, soft metals, drywall, plastics, ceiling fans, etc. It comes with complete cornhole board plans. Instructions are on the back of the card that is packaged with the hole saw. Also includes Mandrel.
"We're excited about the availability of these innovative products," said a spokesperson for The Hardware City. "These items are here just in time for the renewed activity that spring brings with regard to home or garden care, and they offer amazing capabilities meaning you can be aware of your environmental impact at the same time as you enjoy outstanding functionality."
TheHardwareCity.com is known for providing an expansive online selection of outstanding products, including building supplies, home hardware and plumbing supplies, and lawn and garden equipment.
About TheHardwareCity.com
TheHardwareCity.com is an online hardware store of a wide range of products, including building and electrical supplies, tools, household supplies, and lawn and automotive supplies. The company strives to provide customers with not only the most high-quality and technologically-advanced products, but also the best value. In business since 2007, TheHardwareCity.com has become the premiere destination for all things home, lawn and automotive-related.