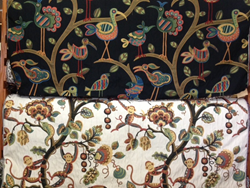 San Mateo, CA (PRWEB) November 28, 2014
This is the time of year that folks are looking for fabrics to reupholster furniture and/or drape windows to ready their homes for the Thanksgiving and Christmas holidays. Additionally, customers also are on the lookout for upholstery fabrics or curtain fabrics, in fall and holiday colors, with which to brighten up their homes.
Among the vast selection at Norman S. Bernie Co. here are some of the beautiful fabrics, arriving within days or available now: a handsome reversible geometric, "Beth: Graphite", also stocked in other decorative colors; ever-popular novelties, "Crazy ol' Bird" in Autumn and Midnight, "Give a Hoot: Caribbean", and "Crab Walk: Aqua"; a lush 100% imported Irish linen from Ulster Weavers, "Wilde: Oatmeal", also stocked in other lovely natural shades; "Josephine: Cream", a lush tone on tone jacquard chenille from Golding Fabrics, and too many more to list.
And among the recently stocked patterns reordered for the holidays are "Southgate": Garden, from Golding Fabrics, a gorgeous latticework pattern in red and green, perfect as an upholstery fabric or a drapery fabric; and from Lacefield Fabrics, the ever-popular print of French document labels, "Document: Fossil".
The clock is ticking and the holidays are upon us. Now is the perfect time to shop early to get the beautiful upholstery fabrics and drapery fabrics for the upcoming holidays, available now at Norman S. Bernie Co., the San Francisco Bay Area's one-stop decorative fabric destination, with the most expert and friendliest customer service in the industry.