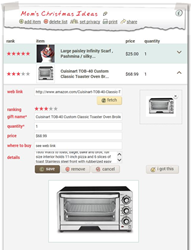 "Fetch" is another innovative way Giftster makes wish list making more fun. - Ron Reimann, founder
Minneapolis St. Paul, MN (PRWEB) October 01, 2014
Just in time for early holiday gift planning, Giftster releases two marvelously simple ways to make wish list making fun.
The "Fetch" button automatically fills out a gift idea based on the web link, like magic. The "add-image" button is a simple but versatile way to add any image to your gift idea when you want to pick your own.
Unlike other wish list and gift registry services, Giftster lets members make their wish list the way they want to. Just type an idea, or fetch one, or use the Add-to-Giftster button while browsing other sites. Offline items can be added to lists as well allowing members to add whatever they'd like, not what some search box forces them to list.
"Fetch" does some fancy things behind the scenes to auto fill a gift item. The Fetch function uses computer vision, natural language processing and machine learning to automatically recognize and structure the data needed to complete a gift idea. This allows Giftster to automatically fill the item name, price, picture and description with the press of a button while on the Giftster website.
"Add-image" is an alternative way to add the perfect picture to a gift item. In a few seconds a member can insert an image from a web search, their local drive, Facebook and even their camera on an Apple iPad or iPhone.
For example, someone wishing for tickets to the art gallery could insert an image of an upcoming Monet exhibit or a picture of the gallery itself. They don't have to have a specific product page in mind.
About Giftster
Giftster is the personal, permanent gift registry for families and best friends.
The service is experiencing continued fast growth, with sign ups, group formation and list making pace tripling in the last 3 weeks of September as the holidays approach.
Giftster is pioneering the idea of the lifetime gift registry. Not event based, like a wedding registry, but a permanent place to update and share gift ideas and preferences year-round. Giftster's powerful group functions make it easy to start and manage a family group. Lists can be private, shared only with the group, or public.
Everyone in the family has a way to use Giftster - from the home computer with giftster.com, on the go with apps for Android and iPhone, and a mobile web version for everything else.
###
Giftster is a registered trademark, and lifetime gift registry is a trademark of MyGiftster Corporation. Visit press information for story ideas and contact information.