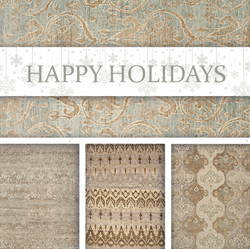 Celebrating the season of sweater weather and wintry palettes, Cyrus is offering 20% off the retail price of the Decant Collection.
Minneapolis, Minnesota (PRWEB) December 03, 2014
As December opens and winter is in now full swing, Cyrus Artisan Rugs embraces the cold holiday season by offering exclusive deals and discounted prices to entice holiday shoppers. Throughout the month, Cyrus will continue to add new rugs and carpet designs to their online inventory and Minneapolis showroom. As a leading purveyor of hand knotted luxury carpets in the Midwest, it is no surprise that Cyrus unveiled new rugs in time for the holiday shopping craze. Many of the featured rugs are original Cyrus Artisan Rugs' designs, but the retailer is also expanding its impressive inventory all season with pieces from the likes of James Tufenkian, Lapchi, and Safavieh.
Celebrating the season of sweater weather and wintry palettes, Cyrus is offering 20% off the retail price of the Decant Collection. The Decant Collection is a popular existing collection that is being re-featured throughout the month of December. The Decant Collection showcases expert artisan craftsmanship, hand knotted in Nepal using premium mountain wool that is celebrated for its beauty, softness, and resilience.
Some of the exceptional rug designs and highlights from the featured Decant Collection include the "Mia" transitional carpet. The "Mia" rug showcases a timeless yet contemporary damask motif that is perfect for the season. The "eloquence" and "bison hide" color palettes are both popular choices as they feature soft powder blues, golden neutral tones, and a simplistic elegance that would fit right into an Aspen lodge. Another standout this season is the transitional "Beginnings" rug design, with its soft floral motif and cool, polished gray and blue palettes like "star dust" and "malta". Along with the Decant Collection, Cyrus has released a variety of new rugs and designs, with its expanded inventory of hand knotted carpets arriving in perfect time for holiday home decor shoppers.
Each of these handmade and rare rugs are featured on both Cyrus' online store and in their large Minneapolis showroom. Cyrus Artisan Rugs' showroom is over 13,500 square-feet with an inventory of over 3,000 handmade artisan rugs. Design lovers, industry insiders, and residents of the greater Minneapolis area should check out these truly one-of-a-kind carpets to get inspired for their own holiday decorating plans this Thanksgiving and holiday season.
Cyrus Artisan Rugs
5115 American Blvd.
W. Bloomington, MN 55437
Phone: (952) 922-6000
-Contributed by TRIXMEDIA : Creating Possibilities
Branding Firm based in Beverly Hills, California.