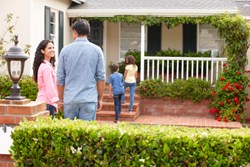 We've been through 10 years of winter selling, and we've realized strong sales in the past because of our readiness for winter obstacles and the typical holiday stresses that people are under.
Columbia, MD (PRWEB) November 12, 2013
There's a popular theory that once autumn is here, home sellers should uproot the "for sale" signs in their yards and wait until next year. But if the flourishing Maryland real estate market of 2013 has taught local agents and home sellers anything, it's that opportunity can knock at unexpected times.
"It's true that we see the biggest drop in home listings in November and December. But, there are life circumstances that require sellers to sell and buyers to buy, even when the market is slow," says Michael McKenna of The McKenna Group of WEICHERT, REALTORS® – New Colony in Columbia, Maryland. "Most sellers avoid this time of year to list their homes because of the approaching holiday season. Plus, the weather is much colder, and the end of daylight saving time limits the interest in weekday showings. Still, it's not a time to give up on sales. They key is for agents, sellers and buyers to be prepared."
So what do sellers need to focus on during this time of year? Realtor® Tom Monaco, of The McKenna Group, encourages the following: "Price strategically so that your home appeals to the greatest number of buyers. You want to have the best home in that price range. Next, be flexible on price and a settlement time frame if your primary goal is selling your home. This isn't the time to test the market to see what you can get. And finally, be sure your home is available for showings at all possible times. It's a hectic time of year for everyone, and time is limited for interested buyers."
McKenna adds, "Sellers believe that their homes show best with flowers in bloom and green grass; I believe that is a myth. You will still want to put fresh mulch around the yard, cut the grass and rake the leaves. Keep it tidy. Also, avoid outdoor decorations, and limit the holiday decorations inside the home, so that potential buyers can picture making their own holiday memories there."
If history serves as any indicator of what the winter season of 2013-2014 might be like, McKenna believes that home owners from Columbia to Ellicott City could benefit from optimizing the way they market their properties over the next several weeks, rather than waiting until the holiday season is over. This claim is supported by data from analytics tracker Metropolitan Regional Information Systems that showed a higher level of properties selling in the area in November and December of 2012 than in January and February of 2013. Case in point: There were 63 home sales in Columbia last November, 88 in December, 66 in January and then just 41 in February. Ellicott City also followed this trend with 68 November sales, 60 December sales, 51 January sales and just 22 February sales. The same patterns also held relatively consistent in nearby Mt. Airy and Westminster. Furthermore, the $352,762 average sale price on Columbia homes in November of 2012 was higher than in any of the three following months.
Homes have been selling at five-year highs in Columbia, where home values are up more than $20,000 on average since the beginning of 2013, according to data from real estate analytics company Altos Research. Another plus, Freddie Mac's report of interest rates hitting a four-month low of 4.1 percent at the end of October is expected to drive buyer interest all across the nation.
To get a taste of the local markets and what sellers can expect, November 1st Altos reports showed the median list price for Columbia homes at $433,254, Mount Airy at $461,447, Ellicott City at $628,222 and Westminster at $348,745. All are improvements over last year, which should help fuel seller confidence.
"We've been through 10 years of winter selling," Michael McKenna says. "And we've realized strong sales in past winters because of our readiness for winter obstacles and the typical holiday stresses that people are under. We set expectations, communicate often, and coordinate everything for the client: showings and viewings, the loan process, inspections, air quality testing, title service … everything."