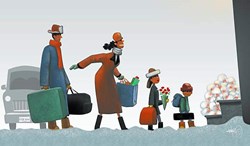 Making sure your house is ready for all of your holiday guests is easy with these simple tips from industry experts.
Richmond, Virginia (PRWEB) December 21, 2013
The holidays are a great time for families to gather in one location, and for many people, this means it's the season of house guests. When preparing a home for house guests, it goes beyond just making them more comfortable, and also means certain safety and practical precautions are taken. AlarmSystemReport.com, a site that provides alarm reviews, including a new ADT review, as well as an updated Vivint review, has created a list of ways people can make their house guests safer, happier and more comfortable.
1. Sure, most people want to make sure their home is sparkling clean before having guests over, and while this is important, it may not be the best time to clean an oven. When a homeowner uses an oven's self-clean option, it can cause it to stop working properly, which can be a nightmare around holiday time.
2. Perform any necessary maintenance on toilets—this is vital. If necessary, tighten bolts, and replace the valve if it isn't working properly.
3. Take the opportunity to go around the house and replace burned out light bulbs. Don't just do the interior bulbs—also cover exterior bulbs. Having a well-lit exterior can prevent things like falls from occurring, and can also make a home more secure against intruders.
4. Check alarm systems to make sure their functioning properly, including the smoke alarms and carbon monoxide detectors. The winter is a time when fires and carbon monoxide poisoning are a very real risk, so protect guests from these threats with properly working alarm systems.
5. Fix any areas in and around a home that could lead to falls or accidents—for example, loose treads on outside steps, loose deck boards, and pavers that could be loose leading up to a home. Homeowners may also want to take a look at rugs that could be slippery, and handrails that might be loose.
6. Keep the exterior of a home safe and guest-ready by using a de-icer on the walkways, and keeping snow cleared away at all times.
7. If guests will be coming with children, make sure that a home is adequately childproofed. For example, cover electrical outlets, block stairways, and lock cabinets that house toxic materials.
8. Make sure there is a working fire extinguisher present. The holidays are one of the most significant times of the year in terms of house fires, so it's important to have an extinguisher on-hand at all times.
About AlarmSystemReport.com
AlarmSystemReport.com is the nation's leading third party provider of information pertaining to the home alarm industry. The site provides information on a state-by-state and regional basis, including the Midwest region. Residents can find information on everything from Nebraska security systems to Iowa security systems, in one user-friendly location.