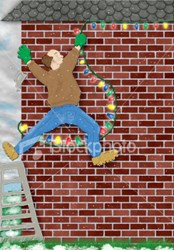 Homes are much more susceptible to a home breakin during the holiday season. Ensure you are keeping yours safe from potential criminals with these simple tips.
New York, New York (PRWEB) December 24, 2013
Most people love the holidays, and for good reason. It can be one of the best times of year for many families, however, the holidays aren't without their own problems. There are numerous safety and security concerns that are most prominent during the holidays, according to the team at AlarmSystemReport.com.
AlarmSystemReport.com is a site that provides alarm system reviews of top companies and providers throughout the country—for example, FrontPoint reviews.
The site created a list of tips, specifically for the holidays:
1. Be careful of items that may be strewn around a home which can be a choking hazard for young children. Parents and relatives who have children visiting should keep an eye out for small items like buttons, ornaments and other decorations that could be dangerous for little ones.
2. Never hang holiday decorations directly over a heat source, including a heat vent.
3. Holiday plants, like poinsettias, aren't just dangerous if they're eaten by pets—they're also toxic for children, so keep them out of reach of both little ones and pets.
4. Check for signs of damage or fraying on all lights and holiday decorations. Worn out wires can be a big fire hazard.
5. Turn off all holiday lights before leaving the house or going to bed.
6. Don't use a gas fireplace if the glass screen shows any signs of cracking or damage.
7. Thieves are always on the prowl during the holidays, so don't give them a reason to target a home by placing boxes for expensive new gifts on the curb. It's best to drive these boxes away and throw them in a designated trash or recycling center.
8. Keep windows covered during the holidays to prevent thieves from peering in windows and scoping out gifts they may want to steal.
9. Don't store any flammable items near a gas furnace, including gas, chemicals, paper and paint.
10. Don't advertise any holiday travel plans on social media sites, or post pictures of expensive new gifts. Social media is one of the top ways thieves and criminals identify targets.
11. Even top alarm systems need routine maintenance and the holidays are a great time to do this. Do a test of home security systems, as well as the carbon monoxide detector and the smoke detector.
12. Prepare holiday meals with safety in mind. Never leave cooking food unattended, keep children away from the kitchen when food is being prepared, and avoid cross-contaminating food.
About AlarmSystemReport.com
AlarmSystemReport.com remains a leader in providing consumers throughout the country with informative, unbiased reviews pertaining to the home alarm and security industry. From Mississippi security systems to Massachusetts security systems, Alarm System Report covers it all. As well as reviews, the site is also a valuable source for discount codes and coupons that can be used toward the purchase and installation of a home alarm system.