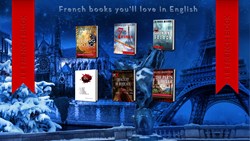 'Tis the season for a good read.
New York, New York (PRWEB) November 28, 2013
For mystery and thriller publisher Le French Book, 'tis the best season for a good read. All the festivities call for a break--a real break from it all, the kind readers get from a great book. For the occasion, Le French Book will price a selection of e-books at $4.99 from Thanksgiving through New Year's Day.
To accompany these great holiday prices for blockbuster fiction, Le French Book provides some advice on how to survive the holidays.

For holiday-goers snowed in at the airport, a whodunit from the Winemaker Detective series offers a perfect escape. Treachery in Bordeaux by Jean-Pierre Alaux and Noël Balen takes readers on a journey to French wine country with a lot of gourmet attitude.
Digesting turkey on the couch improves with an adrenaline-pumping read such as The Bleiberg Project by David Khara. It's an action-packed ride to save the modern world from a Nazi conspiracy.
An afternoon snow-blowing the driveway calls for a global warming thriller. The Greenland Breach by Bernard Besson has a cracking ice cap, rival multinational corporations, cut-throat espionage and gadgets galore.
What kind of table conversation for the mother-in-law? A psychological thriller set in France, with suspense, sense of place and…, well, murder, could work well, couldn't it? The Paris Lawyer by Sylvie Granotier is an ideal fit.
Who doesn't dream of New Year's Eve in Paris? Prize-winning http://www.the7thwoman.com is set in the glamorous City of Light, where a serial killer is at large.
How to gift an e-book
Here is a guide to sharing those e-books with friends and family.
To gift an e-book, the giver needs to know where the reader usually gets his or her e-books: Amazon (Kindle), Barnes & Noble (Nook), or Apple iBooks (iPad, iPhone or iPod touch). Unfortunately, offering an ebook or a gift card on Kobo is not available for the time being, as they are making some changes on their website.
For Amazon and Barnes & Noble, on the book's page, on the right-hand side, there is a link "Give as a gift," "Buy as gift" or "Send as gift." It's really that easy.
The gift-giver then provides the receiver's email and a personal message, and can choose when the give will be delivered.
Note for Apple iBooks users: If the gift receivers read on an iPad using iBooks, there is no easy way to give them a book directly. It is possible to offer a gift card that they can use to buy one or several books for their account. This is done on iTunes. In the right-hand side column, there is a button Buy iTunes Gifts, with a choice of e- or print. Gift-givers can choose the amount and add a personal message pointing to the book they want to give.
About Le French Book
Le French Book (http://www.lefrenchbook.com) is a New York-based publisher specialized in great reads from France, with a growing catalog of top contemporary mysteries and thrillers with a French touch.