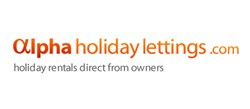 A rental listing with video is
more likely to appear higher on search engine results.
(PRWEB UK) 16 August 2013
With the ever growing number of holiday rentals websites, holiday makers are spoilt for choices when it comes to searching for that ideal holiday villa or apartment. On the other hand, the increased competition also means that it is becoming more and more difficult for holiday home owners to get their holiday homes noticed.
We all know that a great photo speaks a thousand words, and this is particularly true in holiday rental advertising. With the vast amount of vacation homes listed on various websites, it is essential to offer something different and unique in order to grab the attention of potential guests. As well as displaying good high quality photos, by adding a video tour of a holiday let will certainly increase the chances of securing more enquiries and rental bookings.
A new feature on AlphaHolidayLettings.com automatically generates and displays "Video Showcases" for rental listings. Special knowledge in video editing is not required. In fact, the videos are generated using photos and information uploaded by advertisers. The results are professional, engaging and unique video clips with music, allowing guests to see the properties in a completely different light, and encouraging them to enquire and book the accommodation.
Click here to view an example of "Automatic Video Showcase"
Another additional benefit of having videos displayed on rental listings is that search engines, including Google, Bing and Yahoo, increasingly place more emphasis on video content. A rental listing with video is more likely to appear higher on search engine results.
This new feature is available to all Premium Advert subscribers at no additional costs. A Premium Advert costs £109 for 12 months. Visit AlphaHolidayLettings.com for more information.