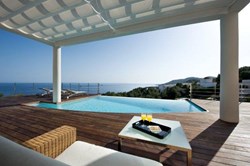 January tends to be the busiest time of year for every sector of the travel industry, and the holiday rentals market is no exception.
(PRWEB UK) 17 January 2014
As AlphaHolidayLettings.com demonstrates, January tends to be the busiest time of year for every sector of the travel industry, and the holiday rentals market is no exception. With Christmas out of the way but winter still at large, thoughts naturally turn to holidays and January is traditionally a time when people begin to plan their next break or summer vacation.
Those interested in renting a holiday villa or apartment will typically begin their research by identifying a number of suitable properties and obtaining further information from the owner or agent regarding aspects such as where the property is in location to the airport, beach and local amenities, the features of the property, its availability and price and whether any discounts apply.
In the fortnight immediately post-Christmas 2013, AlphaHolidayLettings.com, already a market-leading holiday rentals portal, saw an unprecedented 400% increase in visitors browsing for, and enquiring about, holiday villas, apartments and other rental properties.
To celebrate an outstandingly successful 2013 and to help holiday property owners and agents gain the best advantage from the current surge of visitor interest in their website, Alpha Holiday Lettings is offering – for a limited period - six months' holiday rental advertising entirely free of charge when a twelve-month advertisement is signed up for.
Standard advertising for a single property normally costs just £89 per year, but for the duration of the offer owners and agents will benefit from 18 months' advertising for the price of twelve.
Premium advertising, which provides additional text space, the ability to display thirty photographs (ten more than a standard advertisement) and which benefits from a highlighted search result for better visibility, costs just £109 and again includes six months' complimentary advertising.
Owners and agents wishing to fully maximise the promotion of their holiday rental property can take advantage of Alpha Holiday Lettings' unique "myAlphaWebsite + Premium Advert" package which automatically creates an impressive, easily-maintained and fully functional standalone website from a property's premium advertisement (included in the package cost). During the offer period this high-impact advertising package is available for just £145 – a 30% discount on the normal price of £209 – and also includes an additional six months' free advertising.
These generous advertising offers have already created significant interest among owners and agents with holiday accommodation to rent: Alpha Holiday Lettings reports that it received a record number of sign-ups within the first two weeks of January 2014.
Property owners and agents wishing to take advantage of Alpha Holiday Lettings' time-limited offer of six months' complimentary holiday rental advertising offer are invited to contact the company or sign up online at http://www.AlphaHolidayLettings.com.
About Alpha Holiday Lettings
Alpha Holiday Lettings has rapidly established itself as one of the top holiday rentals portal sites in Europe and offers self-catering villas, cottages and holiday apartments in Spain, England, France, Portugal, Italy, Cyprus, Turkey and other destinations around the world. The majority of the properties listed on Alpha Holiday Lettings are privately owned and are booked directly with holiday home owners. For more information, visit http://www.AlphaHolidayLettings.com.