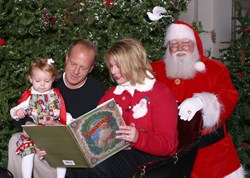 Chattanooga, TN (PRWEB) October 15, 2013
Traditions bring up fond memories of time spent with family and friends. They remind us that we need to a break from our hectic schedules and really enjoy the little things in life. They are reassuring and bring families closer together while doing things like eating roasted turkey (or maybe tofurkey!) and dressing, baking pumpkin pie, reading The Night Before Christmas, giving and receiving presents, baking cookies just for Santa and the elves or dusting off the box that holds the magical Christmas village.
Kathy Lee from Cleveland, TN says, "My family and I love to visit Rock City's Enchanted Garden of Lights and we look forward to it every Christmas. It's become a tradition not only for my immediate family but extended as well. It's such a unique and beautiful place for all of us to get out of the house and spend some quality time together."
It's important to spend that quality time together creating memories. This year, make some new family traditions by exploring some of Chattanooga's top holiday experiences.
Top Chattanooga Holiday Experiences
Explore a nocturnal fantasyland with nearly one million star-bright twinkling lights high atop Lookout Mountain, hop on board a train for a North Pole, sing Christmas carols and dance with Santa on a river cruise, meet coral reef Santa divers, build creative gingerbread houses, and watch the lighted boat parade complete with fireworks. Find out more ways to have fun this holiday season in Chattanooga.
Non-Traditional Gifts – Chattanooga Style
It's challenging trying to figure out the perfect gift for everyone on your Christmas list. Will they love it? Will they re-gift it? Give your loved ones special hands-on experiences they can enjoy by themselves or together as a family. Find some great Chattanooga-only gift ideas.
Thanksgiving and Christmas Meals
If spending days preparing large holiday meals adds extra stresses to an already hectic schedule, then take a break this year and get together at one of Chattanooga's delectable restaurants who are offering special holiday meals. Just think… no cleanup! Find all restaurants that are providing special holiday meals.
New Year's Eve Celebrations
The holidays will come and go quickly and then it's time to ring in the New Year. The NYE party you go to can be one of the biggest festivities of the year – if you know where to party. Celebrate in Chattanooga, with a variety of family-friendly and adult options. Check out the NYE possibilities.
Find all the details on how to spend your holidays in Chattanooga.
###