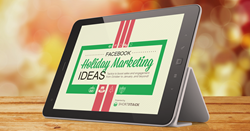 Reno, NV (PRWEB) October 30, 2013
ShortStack, a self-service app building tool, has released "Facebook Holiday Marketing Ideas," a Holiday eBook for businesses who want to market on Facebook during the upcoming holiday season. The eBook is available for a free download on ShortStack's Facebook Page.
ShortStack's eBook, "Facebook Holiday Marketing Ideas," offers tactics to boost sales and engagement from October to January (and beyond). The book covers important holidays including Halloween, Thanksgiving, Black Friday, Cyber Monday, Christmas, New Year's Eve/Day and more. ShortStack provides thirty-nine ways businesses can promote their business on Facebook and get the most out of their social media efforts during the upcoming Holiday season.
In 2013, social media is expected to have big impact on holiday shopping, as it did for 2012. According to the BDO Blog, in 2012, 99 percent of retailers said they'd focus on Facebook for their social marketing efforts. And according to Mashable, 65 percent of shoppers tap social media, looking for the perfect gift. Statistics continue to show Facebook as a large source of holiday revenue for businesses. ShortStack's eBook provides actionable tips for business owners during the holidays.
The "Facebook Holiday Marketing Ideas" eBook includes:
19 holiday custom app ideas
12 examples for making the most out of a business Page cover photo
8 holiday-themed Timeline promotion ideas
A detailed list of holiday-inspired best practices, tips and ideas for making the most of a brand Page.
In August, Facebook made several changes that greatly benefit the 50 million businesses already on the social platform. Business Pages can now leverage Timeline and custom-app-hosted promotions; the "Facebook Holiday Marketing Ideas" eBook provides tips for businesses to make it easy for them to comply with Facebook's latest promotion guidelines. In addition, ShortStack includes the most up-to-date Facebook marketing best practices and tips to help businesses establish a successful Facebook Page. To download this free eBook, click here.
About ShortStack
ShortStack is a self-service web app design tool that allows individuals and businesses to create custom Facebook apps for their Facebook Pages. The dynamic platform contains more than 40 tools and templates where users can integrate fan-gates, contests, sweepstakes, RSS feeds, Twitter, YouTube, and MailChimp newsletter signups that maximize their social media presence and potential. Custom Facebook apps designed using ShortStack are viewable via a mobile device or PC. To learn more about ShortStack visit http://www.shortstack.com.