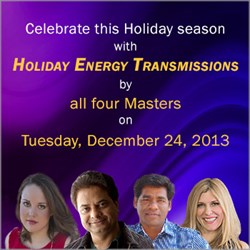 (PRWEB) December 22, 2013
This Christmas Eve, on December 24th, 2013, there is an exceptional opportunity being offered by Trivedi Master Wellness™ to people located all across the globe. Mahendra Trivedi is giving the chance to benefit from extremely powerful "Holiday Energy Transmissions" administered by all four Trivedi Masters™ at the same time. This really is a rare chance to receive such a high level of energy from all four Masters; Mahendra Trivedi, Dahryn Trivedi, Gopal Nayak and Alice Branton at once .The greatest news is this unique opportunity is being offered at the price one would normally pay for a single Master Energy Transmission from one Trivedi Master™.
This really is an incredible opportunity to bring transformation into life through receiving such a high level of Universal Energy. This natural energy received through Energy Transmissions and known as The Trivedi Effect® has been scientifically tested and its capability to bring phenomenal transformation validated through rigorous research and exploration as well renowned research institutes and leading Universities across the world. To find out more about Trivedi Science™ please visit http://www.trivediscience.com
If this energy is capable of transforming and enhancing plants, trees, animals, cancer cells, microbes, metals, polymers, chemicals and even the structure of the atom ….. Then what is it capable of doing? Its ability to really transform human lives in so many ways has been validated through tens of thousands of testimonials left by people who have received it. To see all the varied ways people have benefited from The Trivedi Effect® please go to http://www.triveditestimonials.com .
This wonderful opportunity really is a wonderful Christmas gift to the world, for just $200, the normal cost of just one Master Energy Transmission from one Trivedi Master™, you are being offered the chance to capitalize on the Energy brought through all four masters at the same time and through that be given the chance to transform and enhance the quality of life. The Trivedi Effect® has been reported to improve health, quality of sleep, mental clarity, a sense of purpose, financial opportunity, relationships, inner calmness, spiritual connection and bring happiness into people's lives.
The Energy Transmissions will be administered at the same time from Mahendra Trivedi, Dahryn Trivedi, Alice Branton and Gopal Nayak on Christmas Eve, December 24th 2013. People will receive the Energy during the night when they go to sleep. Mahendra Trivedi states that it is during the state of sleep that people are most receptive to receive this Divine Energy. What a gift, to awake Christmas morning filled with Divine Energy ready for a journey of transformation to unfold.
To make the most of this wonderful opportunity, find out more information about it or register yourself or loved ones for the "Holiday Energy Transmissions" please visit http://www.trivedimasterwellness.com/celebrate-holiday/