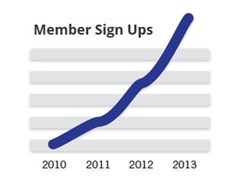 Persistence, a proper idea, and no pivots is resulting in a growing success story for Giftster. - Ron Reimann, President
Minneapolis, MN (PRWEB) October 31, 2013
Announcing Giftster version 2.04 for iPhone is available in the Apple app store, Giftster for Android in Google Play, and the latest updates to giftster.com and m.giftster.com are live now.
For many, the spookiest part of Halloween is that the holiday gift giving season is upon us. And for good reason. $14 billion of economic loss occurs around the holidays from poor gift selection, according to University of Minnesota economics professor Joel Waldfogel.
Professor Waldfogel's research found this estimated $14 billion economic loss was the difference between what people pay for gifts and the value recipients value them at.
Giftster, the permanent gift preference and gift list sharing system, helps solve this mismatch between gift selection and what the recipients really want.
Giftster is a free online gift idea sharing platform, connecting families around gift giving occasions. One member of the family starts a private group with giftster, and invites the rest of the family to join. Once invitations are accepted, a permanent place for sharing wish list and gift preferences is established, accessible by everyone in the family.
Wish lists are collections of gift ideas, both general, like "gardening tools" and specific, like an iPhone case with a web link to the store that carries it. Gift preferences are as detailed as the member desires, including favorite colors, sizes, stores, cultural preferences and even "what not to get me."
The result is less gift anxiety around gift giving occasions, like Christmas. The husband can check his wife's Giftster wish list or gift preferences, to help select something that she really wanted, and mark it reserved, to avoid duplicates. And when it comes time to open a gift, there's less anxiety, too, because the recipient is more likely to get just the right model or color or size they would have picked out themselves. Less money wasted, making a dent in Professor Waldfogel's $14 billion of gift mismatch loss.
New for 2013

Giftster runs on everything. Real time syncing between giftster.com, the iOS app, the Android app in Google Play and m.giftster.com for other small screen browsers.
Add-to-Giftster bookmarket button for adding items to wishlists on the fly while browsing any store, like Best Buy, Target or Nordstroms.
Invite new members from existing address books
30 usability enhancements based on member usage patterns on web and mobile for an excellent experience
Major server upgrade to multiple server configuration for capacity and speed
About Giftster
Giftster launched as the permanent gift registry for families in 2008 and remains true to that mission today, but with quickly accelerating growth. Giftster membership grew 250% in 2012 and is on track to exceed that in 2013.
Giftster is defining the standard for a permanent, lifetime gift registry for families and close friends. Giftster is the place for families to each post and maintain a shared wish list and gift preference profile, accessible only to members of that family.
Giftster is independent of any one retailer, and one member of the family administers the group to maintain privacy and decide who is included or excluded from each group.
###
Giftster and "lifetime gift registry" are trademarks of MyGiftster Corporation. Android, the Android logo and Google Play are trademarks of Google Inc.