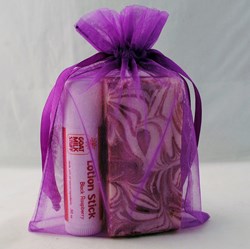 This year, our Sensitive Skin Pack, at $20, is an especially popular gift. It shows you care and are thinking about a person's individual needs.
Scottsburg, IN (PRWEB) November 26, 2013
Goat Milk Stuff announced its Holiday Gift Program, with a wonderful array of its all-natural, chemical-free soaps, lotions and more in elegant and affordable Gift Packs online at http://www.GoatMilkStuff.com.
PJ Jonas, the mom of 8 who founded Goat Milk Stuff, said, "The Holidays are a time for people to show each other their appreciation and we hope that our gift packs are helpfully thoughtful expressions of that caring concern. Each natural product is made by our family on our Indiana farm, with milk from our herd of Alpine goats."
With typical prices ranging from $11 to $24 for most gift packs containing combinations of goat milk soaps or soap and lotion and more, the Goat Milk Stuff combinations of chemical-free, all natural soaps and lotions offer a wonderfully relaxing way to give a gift that both pampers and moisturizes the skin.
Oprah Magazine featured Goat Milk Stuff products in its Beauty Section, noting the outstanding benefits to the skin.
TV's The Doctors also featured the family and showcased Goat Milk Stuff products for their wonderfully healthy benefit to skin in helping people struggling with dry skin, eczema, psoriasis, rosacea and acne.
PJ said, "This year our Sensitive Skin Pack, at $20, is an especially popular gift. Containing unscented purity goat milk soap, unscented lotion stick, laundry soap and unscented lip balm, it is a gift that shows you care and are thinking about a person's individual needs."
Typical Goat Milk Stuff Gift Packs presented in elegant organza bags are:

Beauty Pack, which contains one 5-ounce bar of soap, one lotion stick and one lip balm in a colorful organza bag for $15.
Foot Care Pack has a peppermint fizzy foot bath, luffa to exfoliate and lotion stick for $18.
Problem Skin Pack Bath Pack for $15 has four half-bars of soap, including Goat Milk Stuff's Organic Castile, Purity, Calendula and Tea Tree soaps that are especially good for problems from eczema and psoriasis to rosacea and acne.
Twin Packs with a bar of goat milk soap and a small lotion stick, in matching fragrances as Pink Sugary, Honeysuckle, Luv Spell, Lavender, or Oatmeal, Milk & Honey for $13.
Bath Frizzy Variety Set, for $24, contains 6 small bath fizzies in Black Raspberry, Cold Relief, Lavender, Luv Spell, Pink Sugary and Oatmeal, Milk and Honey scents.
Other Goat Milk Stuff Gift Packs offer a range of natural products in scents from Oatmeal, Milk & Honey and Luv Spell to Black Raspberry, Clean Cotton, Honeysuckle, Lavender and Pink Sugary, among many more.
Jim said, "In allowing our children to help us in the family business, we try to teach them the importance of a work ethic that is so important for them as individuals and for America's future." The 8 homeschooled Jonas children, ages 6 to 16, each help in an age-appropriate way form milking goats to assisting in the office. Every product of Goat Milk Stuff is lovingly made and proudly presented to the family company's customers around the world.
The Jonas family business maintains an active social media presence with a growing following on Facebook at http://www.Facebook.com/GoatMilkStuff, YouTube at YouTube.com/GoatMilkStuff, Twitter at Twitter.com/GoatMilkStuff, Pinterest, at pinterest.com/goatmilkstuff, and Google-Plus.
Online at GoatMilkStuff.com, the Scottsburg, Indiana company makes and markets all-natural Goat Milk Stuff™ products including goat milk soaps, lip balms, lotions, bath bombs, laundry soap, soy candles and more. For media contact: Brian Dobson at DobsonPR.com or BD (at) DobsonPR.com.