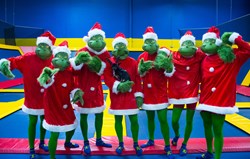 Bounce off the walls...literally! We encourage it! With trampoline floors and trampoline walls, jumping at Sky High Sports is the answer for parents looking for fun ways to keep their kids active and happy during holiday break.
(PRWEB) December 04, 2013
Sky High Sports, the leading brand in trampoline park fun and fitness, celebrates the season with the launch of their second annual holiday video, "The Grinch Group." Performing to "You're A Mean One, Mr. Grinch," eight devious, green furry characters, and Max-the-dog, bounce their way through Sky High delivering two-minutes of high-flying, Grinchy entertainment.
Sky High Sports is the place to keep kids happy and active during holiday break. Bounce off the walls...literally! We encourage it. Active parents raise active kids, so enjoy a family jump at any of the 17 Sky High Sports locations across America.
During holiday break, Sky High offers extended hours for more jumping fun with most locations opening daily at 10am. On Christmas Day, some locations will be open from 2pm until 10pm for active families looking to burn off some of the calories from their holiday feast. View your local Sky High's schedule here: JumpSkyHigh.com
Need a break from the jumping action? Grab a bite in the Sky High Café, take advantage of free Wi-Fi and play a few games in the arcade. Parents can relax in our lounge while watching the holiday football games on the many big screen TVs. Those TVs also monitor the jump courts, so you can keep an eye on your kids while they're burning off all that energy.
If you enjoyed "The Grinch Group," click to view last year's epic holiday video, the "Sky High Sports Santa Squad Spectacular!" Eight Santa's bounce like a bowl full of jelly, delivering an unforgettable performance to "Carol of the Bells."
About Sky High Sports LLC
Founded in 2006 by brothers Jerry and Ron Raymond in the Bay Area of California, Sky High Sports LLC has grown to seventeen locations across America. Visit our brand of family fun in Burlingame, CA, Camarillo, CA, Charlotte, NC, Concord, CA, Houston, TX, Inland Empire, CA, Naperville, IL, Nashville, TN, Niles, IL, Orange County, CA, Portland, OR, Sacramento, CA, San Diego, CA, Santa Clara, CA, Spokane, WA, Portland, OR, Valencia, CA and Woodland Hills, CA. For more information, to find locations or for franchise inquiries, please visit our corporate website at
JumpSkyHigh.com.
Media Contact: Trayce Zimmermann, TrayceZPR for Sky High Sports
*During the holiday season, the Grinch Group may be available for live or taped TV segments from some Sky High locations across the US. Please inquire.
Trayce(at)TrayceZPR(dot)-com
@TrayceZPR