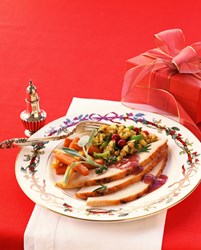 With a little preparation and effort before the holidays hit, you'll be able to get through December unscathed
Islandia, NY (PRWEB) December 17, 2013
The holiday celebrations are wonderful occasions to spend time with our family and friends while enjoying delicious meals and snacks. However, these foods are usually not the healthiest and might cause us to indulge and gain those unwanted pounds. Fortunately, there are ways we can enjoy time with our loved ones while preventing weight gain. Ryan Whitcomb, Registered Dietitian at Whitsons Culinary Group states, "With a little preparation and effort before the holidays hit, you'll be able to get through December unscathed." According to Mr. Whitcomb, RD, the following tips may prove useful to prevent unwanted weight gain while enjoying yourself this holiday season:

Do not attend a celebration hungry
Eat a fiber-filled snack beforehand to curb your appetite. Eating too much fiber at once can cause gastrointestinal discomfort, so aim for 5 grams of fiber to fill you up without discomfort.
Do not skip meals in anticipation of your celebratory meal
This behavior encourages overeating which gradually adds inches to your waistline. Rather, balance the higher calorie meal with lower calorie choices before and after to keep your intake relatively consistent.
Avoid hors d'oeuvres (if possible)
Hors d'oeuvres are tasty, but they are also an opportunity for mindless eating. If a fruit salad or veggies with dip isn't really your thing, gather all the hors d'oeuvres you want to eat at the same time, so you can see how much you're actually eating. Remember that most hors d'oeuvres have as many calories as an entrée. You can also bring your own low-calorie appetizer to guarantee you'll have a healthy alternative.
Avoid foods you can eat any other time of year
Go for your seasonal favorites instead. The holidays only come but once a year.
It helps to minimize temptation by focusing your attention elsewhere.
Start with small portions
You can always go back for seconds if you're still hungry.
Eat enough to feel satisfied
Listen to your body by eating slowly, chewing thoroughly and savoring every bite. Eat until you are 80% full- enough to feel satisfied but have room for more. Remember, you don't have to eat everything to enjoy yourself.
Burns excess calories, lowers blood sugar and blood pressure and decreases stress. Coincidentally, some people eat when they are stressed, so exercise helps to break this cycle.

Decide what you want beforehand- do not make this decision on an empty stomach. At the restaurant, request that no salt be added to the meal and that butter, oil and dressing be added on the side. Bring leftovers home to enjoy for another time.
No foods are off limits but remember to watch your portion sizes. With this time of year notorious for decadent foods, it may be more realistic if you aim to avoid gaining weight as opposed to trying to lose weight.
Whitsons Culinary Group provides a wide range of highly customized dining services to public schools, corporations and institutions, with a strong focus on nutritious, high quality menus made from fresh, wholesome ingredients. Whitsons has a long and proud history of excellence and growth since 1979 and currently ranks the 18th largest dining company in the United States (Food Management magazine, September 2013). Whitsons' scope of expertise and services extends to: emergency dining, residential and healthcare dining, prepared meals, and school dining and services.