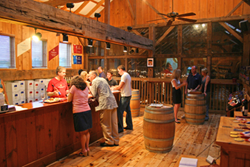 "There's an incredible amount of momentum in this industry, and the themed wine trail weekends are our chance to show it off a bit." -Larry Sharrott, Chairman, GSWGA
(PRWEB) November 12, 2014
Beginning on Black Friday and continuing through the weekend, shoppers will have a few extra stops to make before rushing home with their treasures. Winery tasting rooms from Sussex to Cape May will invite one and all to travel the New Jersey Wine Trails, with special tastings, food pairings, discounts and sales. The annual Holiday Wine Trail is held statewide, at over 45 New Jersey wineries and vineyards.
As a special feature for the first time in 2014, many wineries will be giving away wreaths woven from grapevine, and holiday ornaments to decorate them. Wine trail travelers will receive a wreath and ornament at their first winery visit of the weekend, and then additional ornaments from each participating winery visit thereafter through Sunday. "It's a gesture of appreciation to our patrons who support us throughout the year," said association director John Cifelli. "The Holiday Wine Trail is already very popular across the state, and we hope this will encourage even more people to make supporting their local wineries a part of their holiday plans."
With that support, New Jersey has carved out its place in the wine world in recent years, with 35 wineries opening their doors in the last ten years. Association Chairman Larry Sharrott recognizes this as a culmination of many factors. "It's been a learning experience, both for producers and consumers. We've learned that the climate and soil is excellent for grape growing in NJ, and our patrons have learned that we can make many different types of quality wines here," says Sharrott. "There's an incredible amount of momentum in this industry, and the themed wine trail weekends are our chance to show it off a bit."
Each winery puts its own spin on Holiday Wine Trail Weekend. Plagido's Winery in Hammonton will offer light fare and tastings of developing wines from the barrel to complement their usual wine tasting. Guests here will keep the logoed glass. Villa Milagro Vineyards in Milford will have a Mexican theme, offering tiny tacos and bunuelos to celebrate the release of two new wines. Many others will have live music on some or all days, and most wineries have areas for seating to relax with a glass after the shopping hustle and bustle.
If you are in New Jersey, the nearest winery is never more than 45 minutes away. Tasting room hours vary but are generally open through the afternoon. Exact details of winery events, and a listing of wreath/ornament giveaway locations can be found by visiting http://www.newjerseywines.com. The GSWGA has a full calendar of special opportunities to help you plan your visit to the rapidly increasing number of wineries across the state.
The GSWGA is a coalition of nearly 50 wineries and vineyards across New Jersey, dedicated to raising the quality and awareness of the New Jersey wine industry. For more information, please contact Executive Director John Cifelli at 908-866-6529 or [email protected]