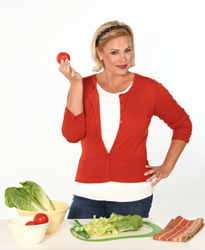 Forget The Stress Of The Holidays -- Make Things Simple!
Jacksonville, Florida (PRWEB) November 10, 2016
Holiday Season 2016: The pressure is on to create meaningful memories, fabulous feasts and a perfect experience for the entire family! "Well, just STOP it already," says Laura Morey, Head Diva of SimpleSolutionsDiva.com. "Stop the pressure and start simplifying things!"
Morey is kicking off her 4th Annual Simple Holiday Survival Series on Monday, November 14, 2016, a free video series full of tips and tricks to make your holidays easier. Morey says it all comes down to setting better expectations and allowing a little imperfection.
"Sometimes, it is just about giving people permission to calm down and not overcomplicate things," says Morey, a recovering perfectionist herself. "My Simple Holiday Survival videos take stressful or complicated holiday traditions, and show viewers how to simplify them. Whether it is a super simple way to clean tarnished silverware, how to rescue a gravy that may be too thin or lumpy, or how to entertain the family, I try to help people make things a little easier."
A video blogger and television lifestyle contributor based in Jacksonville, Florida, Morey focuses her video tips on "Make Life Simple, One Video At A Time!" Since 2012, SimpleSolutionsDiva.com has created how-to videos to make life easier in the home, kitchen, garden, and more. In addition to the Simple Holiday Survival Video Series, the site has other, original series for the public, including: Clear The Clutter, Cooking With The Kids, Putting Pinterest To The Test. New videos post each week.
Simple Holiday Survival 2016 runs November 14-December 19, 2016, and find past videos in the series on SimpleSolutionsDiva.com.
Laura Morey is a video blogger, lifestyle contributor for WTLV-TV/NBC 12 First Coast Living (Jacksonville, FL), TV Spokesperson, mom, domestic goddess, and owner and creative force behind SimpleSolutionsDiva.com. Morey has been a featured personality at the Jacksonville Home & Patio Show.
For more information, visit http://www.SimpleSolutionsDiva.com, or follow the Diva on Facebook (@SimpleSolutionsDiva) or Twitter (@SimpleSolutionsD).
###