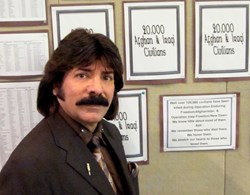 It is comforting for all of humanity to see such respect and reverence being given by this Christian congregation to honor all that have fallen no matter which side was the cause of their demise.
(PRWEB) August 23, 2013
Shawn Rae recently visited a Christian sanctuary that has been 'reading the names' of those killed in the wars overseas. The ritual has been going on the last Friday of every month for the past 7 years. Reading the names of US soldiers would be naturally understood but this group also reads the names of the US adversaries that lost their lives as well. The group has found that quite a few of the adversaries are actually innocent civilians from those foreign lands that have been caught in the cross fire between the fighting factions. The group feels that either way, civilian or 'foe', that loss of life is always a tragedy for those that are left behind. The ones that are left behind, besides family and friends, are often wives and children.
A quote often referred to by the Congregation conveys the idea that all humanity shares the same small planet and that all are mortal. The congregation feels that humanity needs to cherish and secure the future for all the planet's children, not just those from a single country, religion, race, color, caste, ethnicity, gender or orientation. The sadness that is felt by the parishioners on the days when the names are read is exacerbated by the sheer numbers of fallen victims both from here and overseas in this unfortunate conflict. Even though the congregants read names that they find difficult to pronounce, they do their best to honor them all equally. They are also deeply saddened by the fact that many of the names of the fallen overseas remain nameless. The deaths of the nameless, according to the congregants, can only be honored by reporting the vast numbers in each of the countries named.
Today's religious climate seems to be one that is fraught with tension, fear, trepidation and misunderstanding. Generally, it's necessary to tread with great sensitivity when discussing religious matters because of the growing uneasiness that surrounds this controversial topic. Yet, there are many commonalities between traditional Christian and Muslim faiths; it is not commonly known that Muslims have a true admiration and appreciation of Jesus and his genuinely critical role in Islamic history. The Quran mentions Jesus by name twenty-five times, while it only mentions the Prophet Muhammad a total of five times. The belief in Jesus is a requirement of Islamic faith for all Muslims. Furthermore, Jesus is also considered to be the Messiah in Islam. Islam is a relatively young religion when compared to Christianity. The sentiment of inclusion by Christianity, which spans an additional 600 years of practice compared to their Muslim brethren, has informed that inclusion is preferred to ostracization and exclusion. Therefore, the idea of Christians in the United States honoring their Muslim brothers and sisters overseas is a wonderful statement reflecting an enlightened attitude towards religious acceptance and real interfaith harmony. The Congregation's positive interfaith harmony work is mostly being practiced within the borders of the United States, which is a great testament to the adage, "Love knows no borders".
Shawn Rae is a humanitarian, speaker and international recording artist who is committed to share his resources, time and effort in supporting causes that alleviate homelessness, hunger, disease and despair. Shawn is a Muslim from Abbottabad, Pakistan (where Bin Laden was shot and killed) and comes from the same ethnic Pashtun background as the Taliban and is working to bridge gaps through promoting interfaith harmony for a better understanding between the East and West. Shawn's work in this regard includes his vocals being featured on all the songs (including the duet, "Baby It's Cold Outside", with singer and actress, Deana Martin, daughter of American Legendary icon Dean Martin), on the first Christmas album from the Muslim world in respect of Christianity, utilizing the services of Christians, Jews, Muslims and other faiths to complete it.
Shawn Rae's Christmas Album, 'A World Christmas, Love Knows No Borders' has been promoted primarily to predominantly Muslim audiences to also accomplish the goal of interfaith harmony. The Christmas album's American debut is set for December 2013. This endeavor has not been without its challenges. Shawn has had to face some difficult and challenging interviews, including ominous warnings by some quarters of the Muslim world overseas for singing Christmas songs while Muslims are being killed by Christian drones and Christian wars being waged against Muslims in Iraq and Afghanistan. (See Shawn Rae's live Christmas Performance: http://youtu.be/2wEIvEWBZV4).
It is comforting for all of humanity to see such respect and reverence being given by this Christian congregation to honor all that have fallen no matter which side was the cause of their demise. The idea of the congregants being the fact that we all share one small planet is what is of utmost importance. After all, we are really all the same, as all humans everywhere have the same innate ability to love, laugh, cry and sadly mourn their dead.
More info: Shawn Rae Video Bio 2013: http://youtu.be/jBt9I3g362Q and at http://www.ShawnRae.com.