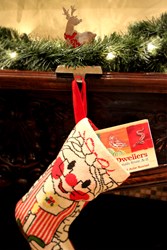 The perfect gift full of learning that pleases both parents and their preschoolers!
Tucson, AZ (PRWEB) November 27, 2013
They say the best things come in small packages. And so it is with Desert Dwellers Flash Cards a perfect gift full of learning that pleases both parents and their preschoolers.
The colorful flash cards contain facts and stories about a range of desert animals, from Anna's Hummingbird through to the Zebra-Tailed Lizard.
Featuring original art, witty descriptions of Southern Arizona's desert wildlife, and packaged in a compact 4" x 7" box, the Desert Dwellers Flash Cards are perfect as stocking stuffers or for mailing to grandchildren or family members out of state.
Artist and graphic designer Julie Rustad based in Tucson, Arizona, created the flash cards after taking a year off work to spend time with her new baby. Wanting to create something educational and representative of her desert home, Julie painted while Syver napped.
The result? A set of flash cards, priced at $20 each with shipping, that are a perfect learning tool and Holiday gift for anybody interested in the colorful and diverse wildlife that inhabits the Southern Arizona desert. Flash cards recently received a huge thumbs-up in a study of effective learning techniques by psychologists at Kent State University.
There are fun games that parents, grandparents, family friends and educators can play with the Desert Dwellers Flash Cards:

Use the cards to read stories and facts about each animal. You or the child(ren) can make up a story about that animal or a group animals.
Hand each child a card and have them act like the animal on it, giving clues and facts so others can guess what it is.
Put up an animal of the week in your home or classroom, and have additional activities related to that animal.
Customers can order the Desert Dwellers Flash Cards, along with desert-themed greeting cards and prints, and also gift certificates, online at http://www.julieoriginals.com.