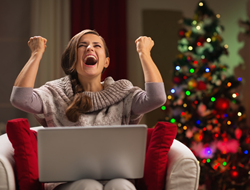 Customers love it when they feel like the company they are doing business with is timely and embracing the holiday spirit.
Fort Lauderdale, FL (PRWEB) September 15, 2015
Experience Advertising, Inc. a leading digital marketing agency, has released their 18-point checklist for preparing ecommerce websites for the holiday shopping season. Experience Advertising, Inc. is led by founder and CEO Evan Weber who has been in the ecommerce industry for more than 17 years. Experience Advertising has worked with more than 200 ecommerce companies of various sizes over the past 8 years. They help companies reach their full potential online and maximize the conversion rate of the traffic their clients receive from the various digital advertising platforms.
The 18-point Ecommerce Website Readiness Checklist is comprised of the following points:

Holiday Themed Pop Ups
Holiday Themed Main Image/Hero Image
Holiday Themed Header/Footer
Holiday Sweepstakes
Holiday Deals Pages
Holiday Themed Emails
Holiday Gift Idea Product Descriptions
Product Catalogs/Shopping Feeds
Holiday Retargeting Ads
Custom Audiences with Facebook and Twitter
Automated Emails
Thank You/Order Confirmation Pages
Customer Service Agents
Voicemail Message/ IVR Systems
Customer Referral Program Messaging
Coupon Codes/Discount Codes
Affiliate Program Banners and Text Links
Free Gifts with Purchase
You can read the explanations for each point in the checklist here.
CEO Evan Weber stated, "Customers love it when they feel like the company they are doing business with is timely and embracing the holiday spirit. It's definitely a conversion rate booster to appear very timely with all aspects of your web presence and the customer service experience as well. It shows people that you plan ahead and take a lot of pride in what your company is portraying to the world. Not all of these points may be appropriate for every company, but there certainly are a bunch that could be worked on and made great so people are excited to buy from your website."
About Experience Advertising, Inc.: Experience Advertising was founded by individuals with a vast background in ecommerce and digital marketing effectiveness. They are able to work with their clients in a single channel of digital marketing or implement a multi-channel digital marketing and social media strategy for their clients. Experience Advertising provides the following agency services for their clients:
Digital Marketing and Online Advertising Consulting
Social Media and Brand Management Consulting
Affiliate Program Management and Affiliate Recruiting - in-house and affiliate networks
Social Media Management - proactive social network management
Facebook & Twitter Advertising Management - fan acquisition and revenue generation
Retargeting ads to web visitors and customers
Paid Search Engine Management - Google Adwords and Bing Ads
Content and Online PR - SEO-based services
Website Conversion Rate Optimization - on-site optimization; multivariate testing
Customer Loyalty Programs - customer referral programs, customer loyalty strategies
Sweepstakes and Contests - designed to building fans, opt-ins, and followers
Email Newsletter - HTML design, email list monetization
Web design - refurbishing current site or complete redesigns
Programming - front end and back end coding
Outsourced CMO - outsourcing all of your core marketing and advertising
If you would like a free evaluation regarding your digital marketing strategies, visit Experience Advertising today. Experience Advertising can evaluation your current digital marketing and online advertising strategies and let you know where you can improve. They are experts at increasing website conversion rate, which increases your website's click-to-sale ratio, thereby increasing revenue and profit. They are also experts in effective social media advertising, and achieving ROI on your social media advertising budget.