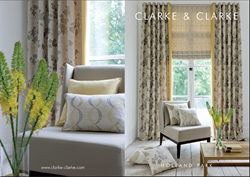 Striking Collection of Fashionable Designs
(PRWEB UK) 31 August 2013
Interesting weaves, stylish stripes and chic contemporary colour schemes – these are just some of the high points from the latest collections of British fabric design house Clarke & Clarke and which are available now to purchase from on-line retailer Curtains Made Simple.
The leading fabric supplier offers both contemporary and classic collections from a wide range of UK and international fabric designers. Visitors to the site can purchase fabric for roman blinds, curtains, tablecloths, cushions and any number of soft furnishings for their home. Curtains Made Simple also provides made to measure curtains from any fabric selected from the site, with guaranteed delivery within four weeks (2 week deliveries can be arranged with prior notice).
Two of the latest collections from the Lancashire-based Clarke & Clarke design outlet include Holland Park Fabric Collection and Cadoro Fabric Collection. The former comprises three stunning and separate woven designs – including a floral and patterned mix – as well as a plain silk effect fabric. The linen-look collection is available is seven separate light and rather muted shades, providing the collection with a definite vintage and country cottage appeal.
Cadoro Fabric Collection, on the other hand, is a rather elegant and classic looking collection in light weaves and hard-crushed linens with busy geometric patterns, plains and one particularly popular design featuring subtle diagonal lines.
A spokesman for Curtains Made Simple said: "Clarke & Clarke have only been around for five years now but within that time they've managed to make a huge impression in the world of fabrics and interior design and we were very keen here at Curtains Made Simple to feature their fabrics on our retail site.
"What we like about their new collections is both the range of design they offer and their contemporary appeal. We've always been impressed by any new designs introduced by Clarke & Clarke and these new collections are no exception. We've just pleased that we now have the opportunity to share them with our customers."
In addition to Holland Park Fabric Collection and the Cadoro Fabric Collection the new collections from Clarke & Clarke includes North African-inspired Global Lux, Indian and Moroccan influenced Sonoma, the classic Country Linens collection and the very modern and floral influenced Folia. All four introduce a range of designs aimed to appeal to a cross-section of interior design styles for the home from contemporary and modern to classic, vintage and minimalist. Folia in particularly, with its bright and sunny shades, would also work well in a child's bedroom or playroom.
The design house, a family-run affair, also provides wallpaper for those interested in co-ordinated textiles. Designer for the range, Jayne Wilson, says she's guided by her belief that design should always be "visually attractive" as well as able to provide "a positive impact on the mood of people using the room."
Curtains Made Simple has detailed descriptions of all the above collections on their website together with an easy to order system and speedy delivery. Staff are also happy to give advice to those interested in ordering made to measure curtains.