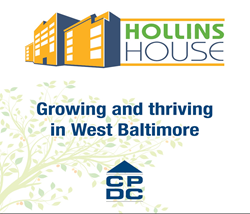 It is our goal that the partnerships being established here will not only improve access to healthcare, but will serve as an anchor for continued development in Hollins Market. ~Pamela Lyons, CPDC SVP Community Impact Strategies
Silver Spring, MD (PRWEB) April 19, 2016
Community Preservation and Development Corporation (CPDC) today announced the groundbreaking for the redevelopment of Hollins House, a community offering affordable apartments for seniors and non-elderly disabled residents in Southwest Baltimore.
Hollins House marks CPDC's first project in the City of Baltimore, a partnership with The Housing Authority of Baltimore City (HABC) to convert the community's 130 apartments from public housing into project-based Section 8 rental units under HUD's Rental Assistance Demonstration (RAD) program.
The redevelopment also represents a new way of revitalizing housing that focuses on the health and other needs of community residents. CPDC is beginning to build a rich health and wellness network for residents and the surrounding community.
"There is a documented disparity in health outcomes in West Baltimore when compared to wealthier neighborhoods just a few miles away," said Pamela Lyons, CPDC Senior Vice President, Community Impact Strategies. "CPDC brings more than 25 years' experience in community building and resident services with a focus on senior health and wellness. It is our goal that the partnerships being established here will not only enable seniors and individuals with disabilities to live independently, age in place and stay in their homes longer--but will also serve as an anchor for continued development in Hollins Market."
Low-income families in the combined West Baltimore zip codes of 21216, 21217, 21229 and 21223 (the zip code for Hollins House) have the highest disease burden and worst health outcomes in the state of Maryland.*
Through new partnerships with the University of Maryland Baltimore (UMB) Center for Community Engagement, UMB School of Pharmacy, Johns Hopkins University and the Virginia Health Quality Center, CPDC is working to turn the tide by connecting residents to critically-needed healthcare services including diabetes and hypertension management programs, health fairs and free exercise programs.
"The newly renovated Hollins House is an oasis, a game changer, a tribute to our seniors," said William "Pete" Welch, Baltimore's Ninth District Councilperson. "Improving the quality of life for our seniors lets them know they are valued, appreciated and supported. Strategically positioned between two major health institutions, it affords ease of access to healthcare. I applaud the new look of Hollins House and the new energy it brings to residents and our community."
Hollins House residents are also involved in a Johns Hopkins University initiative to develop a new Diabetes Networking Tool (DNT), a mobile smartphone app to support people living with type 2 diabetes. The app will allow people to share information about how they are managing diabetes including their diet, cooking, food shopping and exercise and will connect users to health resources in Southwest Baltimore.
"We are pleased to take this major step in the renovation of Hollins House, in collaboration with CPDC and the residents," said Paul T. Graziano, HABC Executive Director. "The RAD program will ensure that those who live in Hollins House and the other sites being renovated throughout the City will live in affordable comfort for years to come."
For more information on CPDC's Hollins House redevelopment including renovation and financing details see:
"CPDC Secures Inaugural Affordable Housing Community in Baltimore with $10 Million Hollins House Redevelopment"
"Preserving Long-Term Affordability and Offering Resources in Baltimore's Hollins Market Community"
*Source: West Baltimore Primary Care Access Collaborative
HOLLINS HOUSE GROUNDBREAKING CELEBRATION
WHEN: April 19, 2016| 12:00 pm-2:00 pm
WHERE: 1010 W. Baltimore Street, Baltimore, MD 21223
###
About CPDC:
For over 25 years, Community Preservation and Development Corporation (CPDC) has served D.C., MD and VA as a leading not-for-profit real estate developer through the acquisition and redevelopment of award-winning affordable housing. We specialize in mixed-income and mixed-use developments, historic preservation, adaptive reuse and are recognized for innovative financing, green building design and public-private partnerships.
With more than 9,000 residents in over 4,500 apartment homes, CPDC is committed to the long-term success of our portfolio and our residents. We deliver innovative Community Impact Strategies (CIS) designed to help individuals and entire neighborhoods grow and thrive. CPDC is a community developer and proud member of NeighborWorks America, the nation's leading trainer of community development and affordable housing professionals.
Press Contacts:
Meghan Thornton
CPDC, Marketing and Communications Manager
Email: mthornton(at)cpdc.org
Office: 202.412.9962
Jamie Rose Momenta Creative, Media Relations
Email: jamie(at)momentacreative.com
Office: 202.688.1448