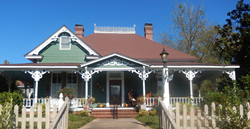 the award celebrates hospitality excellence
Hamilton, Georgia (PRWEB) June 13, 2014
Holly House of Hamilton, a Bed and Breakfast Inn located in Hamilton, Georgia was selected by TripaAdvisor for their Award of Excellence for 2014. TripAdvisor®, the world's largest travel site*, announced the 2014 Certificate of Excellence award recipients. Now in its fourth year, the award celebrates hospitality excellence and is given only to establishments that consistently achieve outstanding traveler reviews on TripAdvisor. Winners of the Certificate of Excellence are located all over the world and represent the upper echelon of businesses listed on the website, with only the top 10 percent receiving the prestigious award. http://www.tripadvisor.com/Hotel_Review-g34993-d3793279-Reviews-Holly_House_of_Hamilton-Hamilton_Georgia.html
Holly House of Hamilton opened on January 11, 2013 in this small town located in the countryside of Harris County, Georgia. http://harriscountychamber.org Hamilton is just 20 miles North of Columbus, Georgia's second largest city and 85 miles from Atlanta. Many attractions are within a short distance of Holly House including Callaway Gardens, FDR State Park and Little White House, Wild Animal Safari, National Infantry Museum, Ft. Benning and Pine Mt.
Judy Archibald, the owner of Holly House, was searching for a "Grammy Cottage" for the purpose of visiting her three grandchildren and their parents who live in Columbus, Georgia. The opportunity arose to purchase this cottage style 6147 square foot Victorian home and a lifetime dream of entertaining and offering hospitality became a reality, as well as having a huge cottage which the Grandchildren frequent regularly. Judy packed up 18,000 pounds and journeyed from Manhattan Beach, California, a suburb of Los Angeles, where she had lived in a four mile radius her entire life. In a few short months local regulations were met and Holly House opened with six thematic guests rooms and several lovely common rooms. The Liberty Reception Room is dedicated to those who have served our country in the Armed Forces. Judy's daughter is married to an Army sergeant stationed at Ft. Benning.
At Holly House, Judy is committed to meeting the vacation expectations of her guests. As each guest's experience is unique, attention to each person's individual needs is of utmost importance in assuring a happy visit to this historic haven. Finding a warm and welcoming home away from home is Judy's desire for each traveler.
One guest that Judy was selected to entertain was a thrift shop Red Chair currently traveling across the nation visiting what is best about America at Bed and Breakfast Inns nationwide. Judy even wrote a song welcoming the Red Chair to her home. You can also see the video and listen to the song on the youtube link contained in the story at the Red Chair Travels website. http://www.redchairtravels.com/georgia.html
Now celebrating the second year of offering hospitality at Holly House of Hamilton, Judy hopes the reviews will continue to be excellent and that more travelers will choose this lovely old home for their hospitality needs.