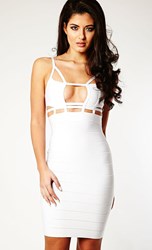 (PRWEB) February 06, 2014
What started as a collaboration between two fashion-minded women has now become an international retailer for the slimming bandage style dresses donned by celebrities on the red carpet. Women can shop with confidence in these tried and true styles guaranteed to flatter. The dresses, which are for the everyday woman, are reasonably priced to ensure the looks Holly O caters to are available to everyone.
Holly O Boutique features numerous styles, sizes, patterns, and colors, providing a wide range with something for everyone. With free shipping on all orders, worldwide delivery, and a mailing list discount right now, Holly O is up, running, and ready for business.
And it doesn't stop there, in a bid to start things off on the right foot with customers, Holly O is also running a 5% off promotion. Any order is eligible for the one-time use coupon, no matter the size, and additional details about the offer at http://www.hollyoboutique.com/
In addition to bandage dresses, Holly O also offers a number of other product lines. Similarly styled tops and skirts are available in a variety of looks. Customers looking for a certain look that Holly O doesn't have, the friendly staff at Holly O will personally hunt it down for them and have it shipped to the customer's home in seven days or less – simply get in touch with customer service and Holly O will have it sorted out and looking great in no time.
The co-founders of Holly O have got a passion for the celebrity fashion world and wanted to bring the sexy looks often spotted on the red carpet and black tie affairs to everyone, Price isn't the only factor at Holly O Boutique. The purchase process is easy, from the second an order is placed up until the moment Holly O products arrive on the customer's doorstep.
The site accepts orders through Paypal or by using any major credit card, and promises speedy shipping – to the point that the customer will get a free product if the order doesn't arrive within 15 days - and prompt customer service. As if a badge to to drive the point home, customers will see several ways to easily access support while shopping on the site, including phone, email, and live online chat. Find the same dress somewhere else? Holly O promises to price match, and then go a step further by giving another 10% off.
Many of the dress designs are named for the celebrities who wore them, allowing for easy browsing of an iconic look that suits the buyer's exact preferences just right. All garments are made with a form-flattering and light yet durable fabric that promises to accentuate figures to perfection.
To find out more, visit http://hollyoboutique.com/
About Holly O:
Holly O Boutique is an online fashion boutique that specializes in providing affordable celebrity style bandage dresses to the masses