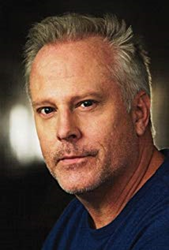 To Thine Own Self Be True
LOS ANGELES (PRWEB) March 15, 2019
Hollywood Actor/Writer Butch Hammett, who hails from Atlanta, Georgia has been a working actor for over 30 years and proud member of the Screen Actors Guild. This year, he has four new TV credits coming to the small screen and a role on Marvel's "Cloak & Dagger."
He recently finished Guest Star work on the new Netflix series, "Raising Dion" which is being produced by and stars Michael B. Jordan. Hammett plays 'Deputy Wayne Miller.' See his performance in its first season. He also completed work on the disturbing true story of mother, Dee Dee Blanchard and her daughter, Gypsy Rose Blanchard and the inhumane treatment her mother imposed on her. Revenge is served up ice cold in this Munchausen by Proxy real life reenactment on Hulu this month. Hammett had the pleasure of working with the brilliant Patricia Arquette and Joey King. "Watching the scenes unfold between these two extremely talented artists was like observing a masterclass, but actually being able to participate." Mr. Hammett also received the pleasure of being flown to New Orleans to shoot a role on Marvel's "Cloak & Dagger." "None of this would have happened without the tireless effort of my amazing, hard working agent, Susan Tolar Walters."
"I've spent the last 20 plus years in Hollywood and 5 years in NYC prior to that. And what amazes me is now how much work is being shot in Georgia now. I love the fact that I get to travel back home and work in the industry I love. I was speaking to my buddy, Kyle Chandler, recently, and we were talking about how much work we are both filming back in our home state." Hammett also had the privilege of working with the very talented Danny Pino in the new WGN Network show, "GONE" also starring Chris Noth.
When asked what has been the most influential part of his recent successes, he said "Robert Colt and his Master Class for actors. His teaching and coaching are at the highest artistic level, along with all the talent there. In all my years working with the best coaches in Los Angeles and New York, no one compares to him. I call him the 'talent whisperer." If you want to become the most exciting, unpredictable working actor you can be, I would train with him. You can find out more about him at robertcolt.com."
Check out Butch Hammett at butchhammett.com because he's going to be someone you are going to be seeing more of in the future. Follow him on Instagram @butchhammet