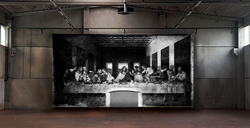 LOS ANGELES (PRWEB) May 16, 2019
Intercontinental producer and branding expert Oscar Generale announces two distinctly different, yet artistically admirable endeavors this week. Generale is a proud producer of the forthcoming feature film "The Poison Rose," starring John Travolta and Morgan Freeman. It's a film about an ex-football star, who becomes a private investigator with a soft spot for a lady in distress. Oscar Generale is no stranger in Hollywood. He's been a deal maker with major brands and A-list talent such as Bruce Willis, Dustin Hoffman, Rhianna, Andrea' Bocelli, Gerard Butler and many more. Oscar Generale Productions is based in Hollywood and has two other films in post production, and three titles in development.
Endowed with a genuine Italian flair for fine art, it is no wonder that Oscar attracts talented artisans of all persuasions. A few years ago, he discovered Francesco La Rosa, a true Italian contemporary artist. Francesco La Rosa produces unique works of art with scalpels and knives across selected swatches of leather, creating collectables to wear or display. Francesco is fascinated with the crafting of photorealistic portraits strictly in back and white, because he loves the beauty of shadows and lights that characterize each picture. Francesco La Rosa is obsessed with perfection. Working on leather with this technique does not allow for making mistakes or erasing them.
Oscar Generale and Francesco La Rosa have created a limited edition of carved, unique reproductions with the famous Aranyani, a new brand of leather luxury handbags. The first assortment of the La Rosa designed Aranyani handbags have sold out. This brilliant team is currently working to create "The Last Supper," made famous by Leonardo Da Vinci. This year is the anniversary of the 500th year of the artist. The Oscar Generale inspired, Francesco La Rosa/Aranyani creation of "The Last Supper" will be etched to perfection with Francesco's technique of micro-carving. The leather is from "Vicenza Pelli," one of the finest brands of Italian leather based in Vicenza (http://www.vicenzapelli.com/en/). The choice of leather is extremely important. It must be excellent in quality and have absolute perfection for the best possible yield. Vicenza Pelli is committed to wholeheartedly support this exciting new project by La Rosa, Generale and Aranyani.
To recreate Da Vinci's "Last Supper," Francesco La Rosa will meticulously study the drawing technique that has been used to accomplish the work itself. La Rosa sees the face of Jesus as a very important perspective and focal point. He will then meticulously craft lines of escape upon his new masterpiece as it evolves into a three-dimensional, realistic and memorable accomplishment.
Leonardo' s work of art is made in a natural size, measuring 8.8 meters in length and 4.6 meters in height. There are no leathers that are this large in size. Having to recreate the same size as the original, the work must be composed of several panels or frames made of wood with the respective leathers backed up and tucked on each panel. Each panel will have the measure 1.47 meters in length, thus obtaining 18 panels in total, hanging next to each other. There will be 3 rows for 6 columns for a result of 8.8 meters in width x 4.6 meters in height.
"The Last Supper" recreated by Francesco La Rosa will be engraved millimeter by millimeter, with extreme precision in order to have a photographic result and a hyper realistic experience. The work will be carried out exclusively by hand, without the use of any kind of trick of facilitation, as are all of Francesco La Rosa's works.The project of "The Last Supper" is very ambitious and no one has ever thought of reproducing one of Leonardo Da Vinci' s best-known paintings on leather and certainly not in real size. The work will be filmed during its realization. Once it is finished, it will be presented in a touring exhibition all over the world.
On the screen Oscar Generale is making history bringing great stars together to tell fascinating stories, such as "The Poison Rose." Off screen, Oscar Generale is making history again by merging the talents of Francesco La Rosa, Aranyani and the late great Leonardo Da Vinci for a courageous re-creation of "The Last Supper," a timeless work of art that is soon to be re-imagined. For more information visit: https://www.oscargeneraleart.com
http://www.aranyani.co
oscar.generale(at)icloud(dot)com