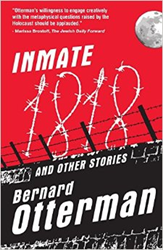 I can never forgive the SS for their unusual cruelties such as shooting all the sick inmates in the meager hospital at Auschwitz before abandoning the camp. Nevertheless, we have to do everything in our power to prevent future genocides and atrocities.
Old Westbury, New York (PRWEB) January 13, 2015
On January 27, 2015, the world will mark International Holocaust Remembrance Day and the 70th anniversary of the liberation of Auschwitz, the infamous Nazi German concentration and extermination camp where at least 1.1 million people were murdered. Holocaust survivor and author Bernard Otterman wrote Inmate 1818 and Other Stories (Paperback and eBook editions, Fiction, Liber Novus Press, November 2014) to commemorate this tragic milestone. Mr. Otterman is available to discuss this somber anniversary, his survival in the face of genocide and how his childhood experiences in ghettos and Nazi labor camps informed his writing and worldview.
"I use the story, 'Inmate 1818,' to talk about what happened to the 30,000 Jews of Radom who were exterminated in Treblinka, and the few thousand, including me, my father and my mother, who survived," said Mr. Otterman at a recent Queens College event.
His collection, Inmate 1818 and Other Stories, is set in the ghettos and camps of World War II and in the difficult days following Hitler's war against the Jews. The Shoah defines the lives of all characters in the stories—survivors as well as their children. In the title story, "Inmate 1818," a young boy is smuggled into a labor camp and befriended by an eccentric teenager with a love for astronomy, who gives the boy a gift that saves his life.
According to Mr. Otterman: "German treatment of Jews, captured Russian prisoners of war, gypsies, and homosexuals in their sheer scope and specific execution are surreal. Paradoxically, presenting these events in the tradition of magical realism makes them more real."
Another story in the collection, "The Golem of Auschwitz," is fitting reading for the day of remembrance on January 27. In this story, a survivor is haunted by the memory of the golem, a mythical creature drawn from Jewish folklore, that he and a Rabbi's son created while in captivity in Auschwitz. Download this important addition to the literature of the Holocaust by clicking here.
Mr. Otterman was just a child when World War II broke out and events that were beyond understanding to most of the world at the time were certainly incomprehensible to the young boy. But for years now, Old Westbury, New York, resident Mr. Otterman, now 77 years old, has strived to tell his story, to understand, to share, and to commemorate through writing and publishing fiction and poetry on the subject. He work as been widely praised:
"Otterman's willingness to engage creatively with the metaphysical questions raised by the Holocaust should be applauded." - Marissa Brostoff, The Jewish Daily Forward
"Polish born writer Bernard Otterman portrays the textured worlds of pre, during and post World War II. These are stories of inherent drama, yet there is no exploitation of events here. Often understated, frequently macabre, and somehow wry." - Martha Rhodes, Founding Editor and Director of Four Way Books
"Here is historical fiction at its finest, concise and penetrating, Otterman's vivid tales of life during and after history's darkest hour explore complex issues such as complicity, denial, and shame with sensitivity and skill." - Joshua M. Greene, author of Justice at Dachau and Witness: Voices from the Holocaust
Full biography below, additional details available upon request. Please contact Diane Rivera (718-507-6853 ext. 215; dianer(at)norcormanagement(dot)com) to secure review copies of Inmate 1818 and Other Stories or to book an interview or speaking event.
Bernard Otterman was born in Lodz, Poland, in 1937. At the age of three, he and his parents escaped Lodz and fled to Warsaw. From there to the Pietrokov ghetto and were subsequently interned in the Radom ghetto and then transferred to the nearby Daimler work camp producing small munitions. In June of 1944, as the Russians advanced from the east, the camp was liquidated, and its inmates shipped to Auschwitz. Bernard and his mother escaped from the line being marched to the trains, fled and hid for six months as fugitives in the Polish countryside and survived until the Russian troops liberated Poland in January of 1945. His father was sent by train to Auschwitz, then immediately moved to a work camp in Germany. He too survived and the family was reunited in Lodz in September of 1945 through displaced persons listings. They lived in Germany until coming to the United States in 1951. Otterman was trained in mechanical engineering and for many years was on the engineering faculty at Northeastern and Hofstra universities. He worked and reworked the stories in this collection for more than a decade. Several of Mr. Otterman's poems and short stories have been published in Poetry, Jewish Currents and other prestigious journals and compendia. His first novel, Self-Deliverance: A Love Story, will be published by Liber Novus Press in April 2015.