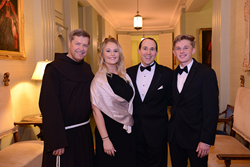 Washington, D.C. (PRWEB) October 29, 2015
Recipients of various prestigious awards gathered at the Vatican Embassy in Washington, D.C. for the biennial Franciscan Foundation for the Holy Land (FFHL) Embassy Gala on October 10, 2015. Guests were joined by the head of the Franciscans in the Holy Land, Fr. Pierbattista Pizzaballa, ofm, who traveled from Jerusalem to be present for the gala. Pizzaballa, himself, would later receive an award as well.
After dinner and a music program by violinists from Catholic University of America, an award presentation, the highlight of the gala program, honored numerous individuals who have made significant sacrifices to help Holy Land Franciscans safeguard the Christian presence in the Holy Land.
FFHL President, Fr. Peter Vasko, ofm, explained that the highest honor, the "Guardian of the Holy Land Award" is made "in recognition of an individual who has not only been spiritually united in guarding Christianity in the Holy Land, but whose actions, vision, and service have brought about a new hope for the people of that land."
He continued, "This individual has borne witness to the light and love of Jesus Christ through an act of community with them, as well as for all of God's people."
The recipients were the Most Reverend Frank J. Dewane, Bishop of Venice, Florida and Fr. Pizzaballa, ofm, who has served as the Custos of the Holy Land since 2004, an unusual length of time over which he has guided the Franciscans and Christian community of the Holy Land through some trying times.
Keynote speaker at the black tie fundraiser was Fr. Pierbattista Pizzaball, ofm, Custos of the Holy Land, who spoke on the current crisis Christians are continuing to face in the Holy Land and how the Franciscans are working to meet their needs.
The event was emceed by New York Times bestselling author, Raymond Arroyo, who also serves as a producer, news director and lead anchor of EWTN's "The World Over".
Other dignitaries included Msgr. Walter Erbì, Counselor of the Apostolic Nunciature to the United States, Fr. Larry Dunham, ofm, Guardian of the Franciscan Monastery in Washington, D.C., Ms. Denise Scalzo, ofs, Vice President of the FFHL, priests and religious from the Archdiocese of Washington D.C, and more than 100 guests.
The biennial event was initiated by the late Archbishop Pietro Sambi when he was Papal Nuncio for the United States. Sambi considered the FFHL a vital resource for stemming the exodus of Christians from the Holy Land, "a land he always loved." He died in 2011 at age 73.
The fundraising gala supports the Franciscan educational programs in the Holy Land and was underwritten this year by Mr. Salim Ayoub, Dr. and Mrs. Carl J. Culicchia and Mr. Nicholas Degel.
For more information, contact Chris Weldon, PR Associate for the FFHL at cweldon(at)ffhl.org.